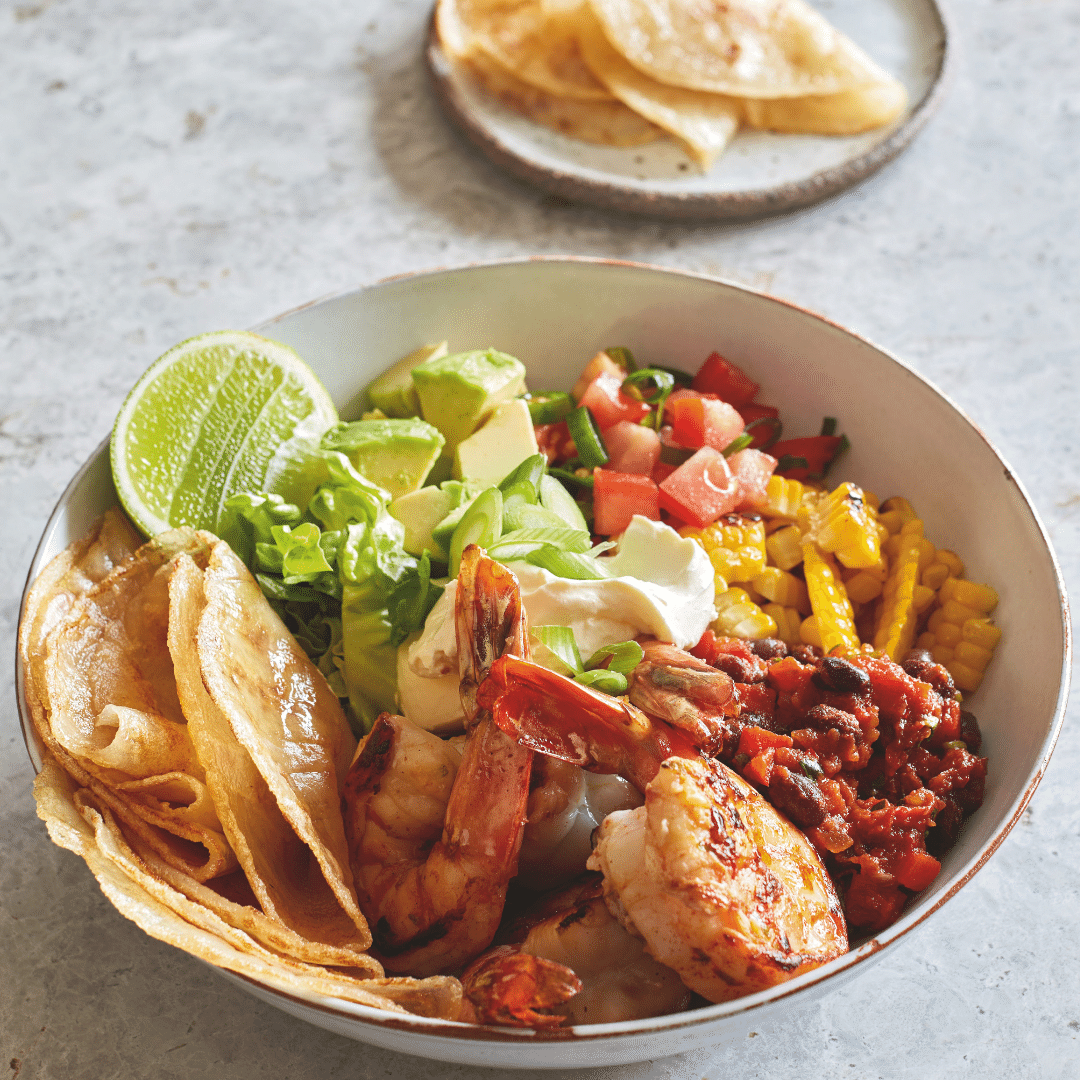 Burrito Bowl with Tarragon Prawns - By Kelly Healey, as published in Eat for Life
A delicious Magnesium packed recipe shared from revered Australian nutritionist and naturopath Kelly Healey. 
Enjoy xx
Burrito Bowl with Tarragon Prawns - By Kelly Healey, as published in Eat for Life
Serves: 2
Preparation time: 1 hour
Ingredients
1 corn on the cob, husk removed 
2 tablespoons extra-virgin olive oil 
1⁄2 brown onion, diced 
2 garlic cloves, very finely chopped 
1⁄2 red capsicum (bell pepper), diced 
1⁄2 long red chilli, deseeded and diced 
1 teaspoon smoked paprika 
1 teaspoon ground cumin 
1 teaspoon ground coriander 
1 cup tinned black beans, drained 
1⁄2 × 400 g (14 oz) tin diced tomatoes 
1 tomato, diced 
1 spring onion (scallion), finely sliced 
400 g (14 oz) raw prawn (shrimp) cutlets, deveined and cleaned 
1 handful chopped coriander (cilantro) leaves 
sea salt and freshly ground black pepper 
1 gem lettuce, roughly chopped 1 avocado, diced
2 tablespoons sour cream
1 lime, cut into cheeks 
Cauliflower tortillas 
250 g (9 oz/2 cups) very finely chopped cauliflower 
110 g (4 oz/1 cup) cassava or tapioca flour 
pinch of sea salt and freshly ground black pepper 
olive oil spray 
Method 
Steam the corn cob for 5 minutes then transfer to a hot barbecue grill plate and cook until blackened on all sides. Remove from the heat and leave to cool slightly, then cut the kernels off the cob. Set aside, keeping the barbecue warm.
Warm 1 tablespoon of the olive oil in a frying pan set over a low heat, add the onion, garlic, capsicum, chilli and spices and cook, stirring, for 3–4 minutes on a low heat. Add black beans and tinned tomatoes and cook for 25–30 minutes, or until the chilli has thickened and reduced slightly. 
While the chilli is cooking, make the cauliflower tortillas. Add the cauliflower to a food processor and blitz together on high until the mix has the consistency of a fine rice or rough flour. Transfer the cauliflower mixture to a clean tea towel and wrap it up tightly to squeeze out any excess water. Return the cauliflower to the food processor with the flour, salt and pepper and mix for 2–3 minutes, or until the mixture starts to form a dough-like consistency. Remove the mix from the food processor, divide into 8–10 balls and roll each into a round tortilla. 
Spray another frying pan set over a high heat with a little olive oil. Working one at a time, grill the tortillas for 2 minutes on each side or until lightly browned. Set aside and cover with a clean tea towel to keep warm. 
Mix the tomato, spring onion and remaining 1 tablespoon of olive oil together in a bowl and season to taste. 
Add the prawns to the grill plate of the hot barbecue and cook for 2–3 minutes on each side, or until cooked through. 
Season the chilli to taste with salt and pepper and stir through the coriander. To serve, arrange the ingredients in bowls in this order: chopped lettuce, diced tomato mix, corn, chilli, prawns and folded cauliflower tortillas. Top with diced avocado and sour cream and serve with lime cheeks for squeezing.
Kelly says…
Packed with protein and containing very high levels of zinc and magnesium, prawns make a great substitute for red meat. The tortillas here can be prepped the day before but be sure to cook them fresh and serve them warm for best results.
We're on a mission to weave
magnesium
Into every busy womans world! Why you ask? Because this little powerhouse mineral is involved in over 300 processes in our bodies and most of us are not getting enough, achy butt from Pilates, waking up overnight? We've developed multiple ways for you to weave this mineral into your world. If you do ONE thing for yourself Make It Magnesium.
WHAT DO YOU NEED RIGHT NOW?