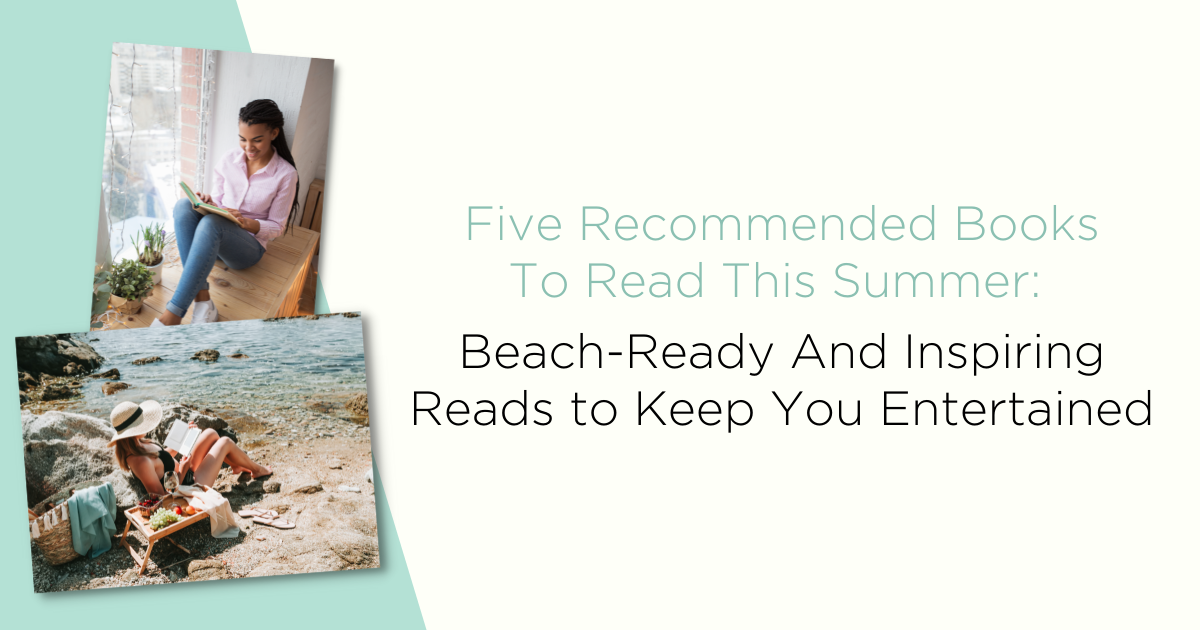 Five Recommended Books To Read This Summer: Beach-Ready And Inspiring Reads to Keep You Entertained
Summertime is the perfect time to relax and catch up on some reading.


It's no wonder so many people like to do a lot of their reading during this season.

So, if you're looking for some good books to keep you company, we've got you covered!

Whether you're looking for beach-ready reads or something that will inspire you...

These five books are worth considering because they can keep you entertained and inspired this summer.


So let's take a look at these five highly recommended books we think you should read this summer.

The first one is...

"Able" by Dylan Alcott.

If you have already read this one, then try re-reading it. 

If you haven't, then you better start now as part of our summer reading recommendations. 

Dylan's book 'Able' was published in November 2019. It is about the inspiring life of one of Australia's greatest sporting heroes.

He won multiple grand slams despite the many obstacles along the way.
Imagine how one man amazingly overcame adversity and even became an Olympic gold medalist in wheelchair tennis.

It's an inspiring and motivational read that will leave you feeling motivated to achieve your goals.

Dylan shows us what it takes to be your best self no matter what challenges come up against you because everyone deserves an equal opportunity at success!

Our second summer reading recommendation is…

"Then There Was Her" by Sophie Cachia.

Sophie Cachia's Book 'Then There Was Her' is a deeply personal, compelling narrative of a woman who came to terms with her choices despite the relentless public scrutiny. 

As a young woman, Sophie found herself navigating the perils of social constructs that lead to self-discovery and empowerment. 

She describes how these challenges helped shape who she is as an individual while reflecting on her own motherhood.

It reminds readers to stop dreading the unknown in life.

Indeed, the strength and courage of Sophie are truly inspiring! 

Next up…

"Love Stories" by Trent Dalton.

You shouldn't miss this if you want a heartfelt and resounding book that will move you to tears.

But it is at the same time funny and warm.

This anthology contains some of the most beautifully written love stories ever told. If you're in the mood for a romantic read, this one is sure to please.

You will surely learn a lot from this masterpiece and transport you to a world of love stories, something we all need more of at the moment.

Plus, the wisdom and lessons learned from the story bring us closer to understanding ourselves and others around us without judgment.

"Autopsy" by Patricia Cornwell.

If you're like me, who find thrillers strangely relaxing, then this one won't disappoint!

You see, when it comes to crime fiction, there is one name that everybody knows...

It's Patricia Cornwell. 

With novels translated into thirty-six languages and more than 120 countries, Patricia Cornwell is one of the world's top best selling crime authors. 

She's best known for her groundbreaking Kay Scarpetta series published in 1990. 

The Autopsy is an expertly told, fast-paced novel that will have you guessing until the end.

It's just as absorbing and entertaining as her other works!

This cleverly planned and twisting mystery is undoubtedly a must-have for your summer reading. 

Lastly…

"Heart Sick" by Jessie Stephens
This is another work of art and a heart-wrenching book by Jessie Stephens. 

The characters are beautifully developed, and the writing the way it was written is so clear and captivating.

In fact, there's a good chance you will find yourself reading the book in one sitting. It is hard to put down once you start reading because it is literally that good!

Heartsick is a book that will make you laugh, cry and think about your own life. 
It is indeed an eye-opening story that reminds us that emotional pain can make you - there are no shortcuts to healing these wounds.

So, if you want something that will leave you feeling hopeful, then don't you ever miss this one!

That's all we've got for now!

Do you have any questions? 

We would love to hear which book you plan to read first. 

Be sure to share with your friends and family who might find this helpful information too.
We're on a mission to weave
magnesium
Into every busy womans world! Why you ask? Because this little powerhouse mineral is involved in over 300 processes in our bodies and most of us are not getting enough, achy butt from Pilates, waking up overnight? We've developed multiple ways for you to weave this mineral into your world. If you do ONE thing for yourself Make It Magnesium.
WHAT DO YOU NEED RIGHT NOW?