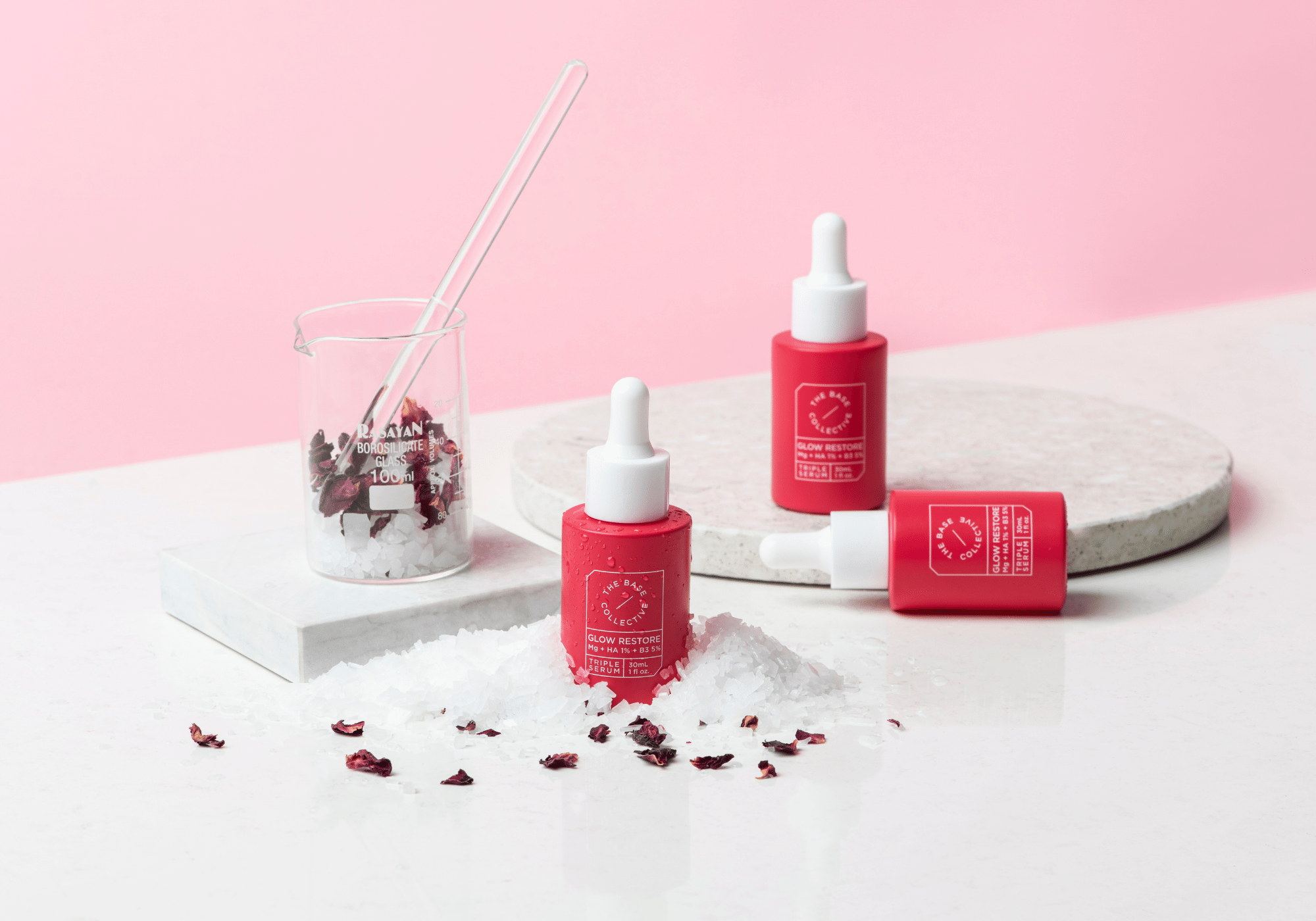 Ingredients for healthy skin
Detoxify, brighten and transform your skin with our Glow Restore Triple Serum!
The innovative formulation is intensively nourishing, with the combination of Magnesium chloride and Hyaluronic Acid working to boost natural collagen production resulting in smoother, firmer skin.
Infused with Niacinamide to reduce redness and inflammation and encourage an even skin tone, the Rose Geranium Oil refines pore size and works to remove dead skin cells.
This powerful and potent formula boosts collagen production, hydrates and plumps, eliminates redness, targets pigmentation, dark spots, fine lines and other forms of uneven skin tone. 
So how does this actually benefit your skin? See our breakdown below:
Magnesium Chloride
The benefits of Magnesium applied topically for your skin are truly indisputable and unbeatable when paired with natural ingredients known for their skin benefits! They can include increased elasticity, improved skin tone, improved collagen synthesis (goodbye wrinkles) and regulation of sebum and oil production (goodbye acne).
Niacinamide (also known as Vitamin B3) 
Niacinamide works to revive dull, tired skin to provide you with a more even skin tone and a healthy, glowing complexion! It's a powerful anti-ageing agent that keeps your skin hydrated by improving the barrier function to retain moisture levels, therefore keeping your skin nice and plump. It also works to reduce redness and inflammation caused by sun damage and acne.
Hyaluronic Acid
Dehydrated and dry skin can feel uncomfortable and display signs of ageing earlier, so proper hydration can make a massive difference in the look and feel of your complexion! Hyaluronic Acid has incredible water-retention properties and maintains the ideal moisture levels within the skin. Plus, thanks to it's lightweight texture and easy absorption, it is more effective in delivering Magnesium Chloride to the skin, therefore resulting in greater collagen production.
Vitamin E
This handy little vitamin is so important to maintain the skin's appearance and health. Not only does it soothe and moisturise, but it can assist with various kinds of cellular restoration and contains anti-inflammatory properties to make your skin look its very best.
Vitamin E (the good guy) is also an antioxidant, so it has the potential to fight off effects of free radicals (the bad guys). These pesky radicals include daily environmental stress such as air pollution, alcohol, sun exposure and poor nutrition. (SUPERFICIALLY ONLY, this doesn't mean the damage doesn't already exist below surface level… so keep wearing that damn SPF). This means Vitamin E can protect your skin from damage that leads to premature ageing, such as pigmentation and wrinkles.
Rose Essential Oil
Aids the skin regeneration process and works simultaneously with the Magnesium to boost skin elasticity. Rose Essential Oil is also amazing for reducing skin imperfections and refining skin texture, which helps to reduce inflammation from acne! You can also find it in our ultra-hydrating Rose, Magnesium & Aloe Vera Wash here.
And some incredible results are already rolling in... see for yourself!
We're on a mission to weave
magnesium
Into every busy womans world! Why you ask? Because this little powerhouse mineral is involved in over 300 processes in our bodies and most of us are not getting enough, achy butt from Pilates, waking up overnight? We've developed multiple ways for you to weave this mineral into your world. If you do ONE thing for yourself Make It Magnesium.
WHAT DO YOU NEED RIGHT NOW?