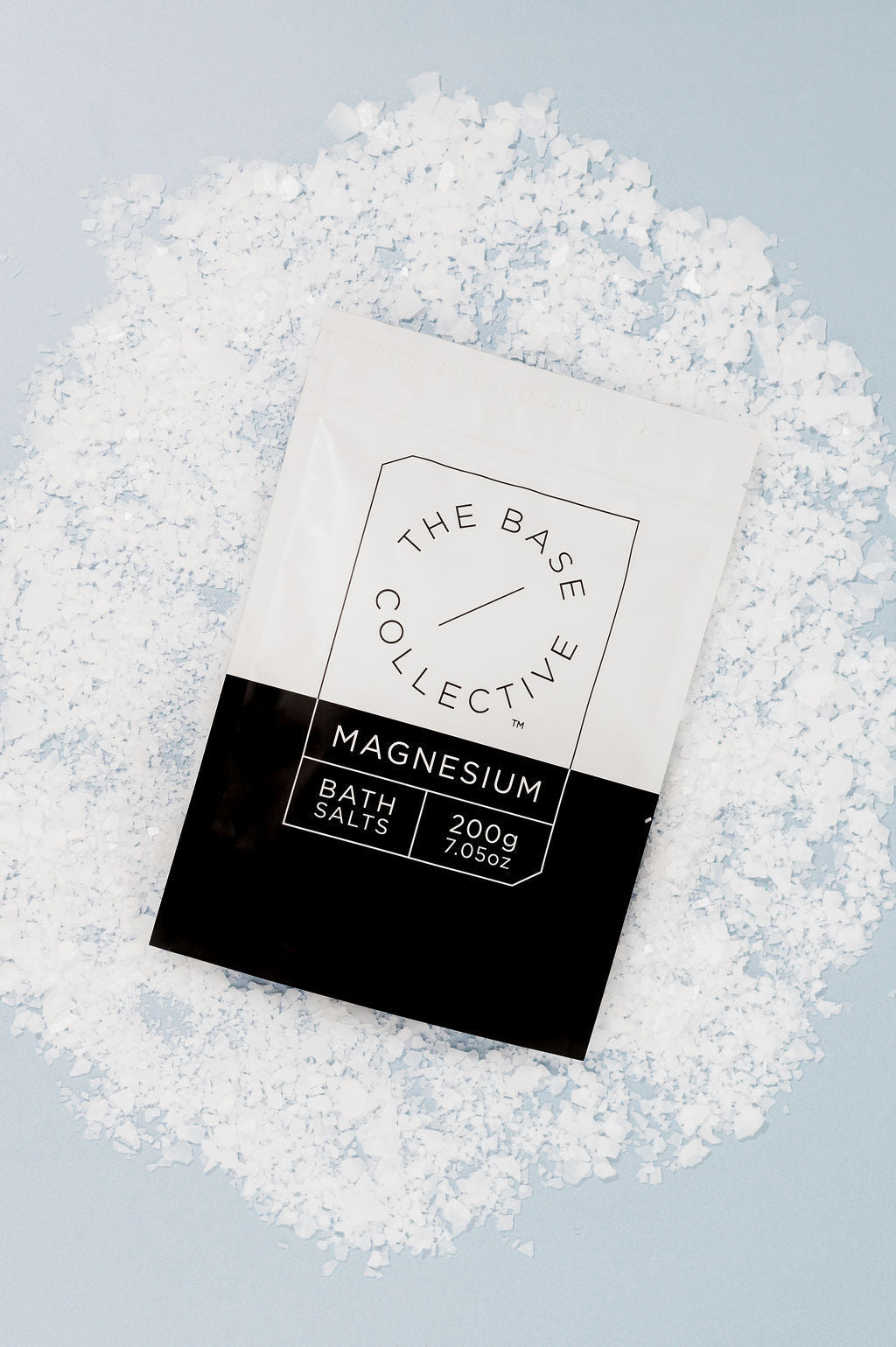 Magnesium Sulfate (Epsom Salt) vs. Magnesium Chloride: Unraveling the Differences and Benefits"
Magnesium is an essential mineral that plays a vital role in various bodily functions, from muscle and nerve function to maintaining heart health and bone density. Many people turn to magnesium supplements to ensure they meet their daily requirements, and two popular options are magnesium sulfate (Epsom salt) and magnesium chloride - aka The Base Collective Pure Magnesium Flakes. While both contain magnesium and offer numerous health benefits, they differ in composition, uses, and absorption rates. In this comprehensive guide, we'll explore the distinctions between magnesium sulfate and magnesium chloride to help you choose the right one for your needs.
Magnesium Sulfate (Epsom Salt) - Man Made and Chemically Processed:
Epsom salt can be found in nature, such as in underground deposits in various parts of the world, including Epsom, England, where it was originally identified. While Epsom salt is naturally occurring, it is also manufactured for commercial and therapeutic purposes, which is the majority of what is available on the market to purchase today. The manufacturing process involves the purification of naturally occurring magnesium sulfate or the creation of a synthetic form through chemical reactions. These manufactured forms are often used in various applications, including medicinal, cosmetic, and agricultural uses
Magnesium Chloride - Naturally Occurring, we source ours from The Dead Sea: 
Magnesium chloride is another compound that contains magnesium, along with chlorine. Unlike Epsom salts, Magnesium Chloride is 100% natural and there are many natural sources. Two main ones are the Tibetan Plateau (aka from China) and The Dead Sea (Israel). We source our Magnesium for our salts and all of our products from The Dead Sea as this is where majority of the studies exploring transdermal absorption and Magnesium benefits sourced their Magnesium from. 
1. Composition and Structure
The primary difference between magnesium sulfate and magnesium chloride lies in their chemical composition and structure.
Magnesium Sulfate (Epsom Salt): Epsom salt consists of magnesium, sulfur, and oxygen. The chemical formula for magnesium sulfate is MgSO4. It is known for its crystalline structure and is often used in baths for its soothing and muscle-relaxing properties.

Magnesium Chloride: Magnesium chloride is a compound composed of magnesium and chlorine ions. Its chemical formula is MgCl2. Unlike Epsom salt, magnesium chloride is highly soluble in water, making it more suitable for various applications, including topical treatments.
2. Absorption Rate
The absorption rate of magnesium sulfate and magnesium chloride differs significantly, affecting how effectively they can address magnesium deficiency and provide therapeutic benefits.
Magnesium Sulfate (Epsom Salt): Epsom salt is primarily used in baths or foot soaks. When dissolved in warm water, it can be absorbed through the skin, a process known as transdermal absorption. While this method can be relaxing and soothing, the absorption rate through the skin is relatively slow, and it may not provide as significant a boost in magnesium levels as other forms.

Magnesium Chloride: Magnesium chloride has a higher bioavailability and is more efficiently absorbed by the body when applied topically. This enhanced absorption rate makes it a preferred choice for those seeking to raise their magnesium levels quickly.
3. Therapeutic Benefits
Both magnesium sulfate and magnesium chloride offer a range of benefits, but their specific applications and effectiveness may vary.
Benefits of Magnesium Sulfate (Epsom Salt):
Muscle Relaxation: Epsom salt baths are renowned for their ability to relax sore muscles and alleviate tension. The magnesium in Epsom salt may help reduce muscle cramps and stiffness.

Stress Reduction: Soaking in an Epsom salt bath can provide a sense of relaxation and stress relief, making it a popular choice for relaxation and self-care.

Improved Sleep: Some people find that Epsom salt baths before bedtime help improve sleep quality by promoting relaxation and reducing stress.
Benefits of Magnesium Chloride:
All of the above benefits, Muscle Relaxation, Improved Sleep and Stress Reduction PLUS:

Quick Absorption: Magnesium chloride is efficiently absorbed by the body, making it an effective choice for addressing magnesium deficiency and related symptoms.

Nervous System Function: Magnesium chloride plays a crucial role in nerve function and may help reduce symptoms of conditions like restless leg syndrome and muscle spasms.

Skin Health: Topical magnesium chloride applications can be beneficial for skin health, potentially helping with conditions like eczema and acne - this is why we have added to our all natural skin care line, you're welcome!
4. Method of Use
The way you use magnesium sulfate (Epsom salt) and magnesium chloride varies due to their differing compositions and absorption rates.
Using Magnesium Sulfate (Epsom Salt):
Baths: Epsom salt is commonly used in baths or foot soaks. Dissolve a few cups of Epsom salt in warm bathwater and soak for 20-30 minutes to enjoy its relaxing and muscle-soothing benefits.
Using Magnesium Chloride:
Baths plus: 
Topical Sprays or Lotions: Magnesium chloride is often used topically in the form of sprays, lotions, or oils. Applying it to the skin allows for quick absorption and may help with muscle cramps or skin issues.5. Safety and Precautions
When using magnesium topical applications, it's essential to consider safety and potential precautions.
Magnesium Sulfate (Epsom Salt): Epsom salt is generally safe for most people when used as directed. However, if you have certain medical conditions or allergies (such as allergies to sulphur) consult your healthcare professional before use.

Magnesium Chloride: Magnesium chloride is safe for most individuals using it for topical application. But we do like to err on the side of caution and if you are on any other medication please consult your healthcare professional before use.
Conclusion
Magnesium sulfate (Epsom salt) and magnesium chloride are two distinct compounds that provide various wellness benefits. Epsom salt, with its soothing and muscle-relaxing properties, is often used in baths and topical applications. On the other hand, magnesium chloride, with its higher bioavailability makes it a more efficient choice for raising magnesium levels in the body.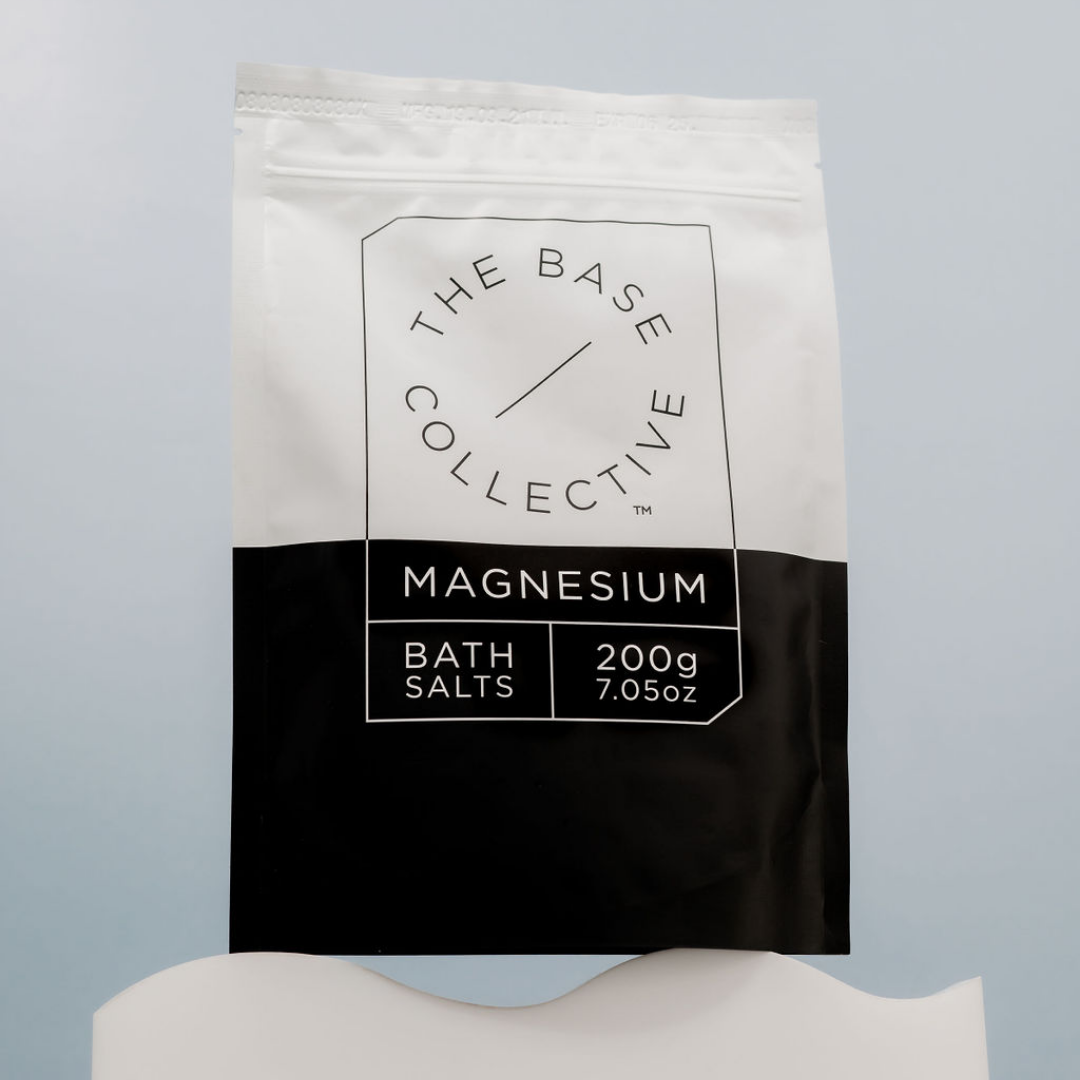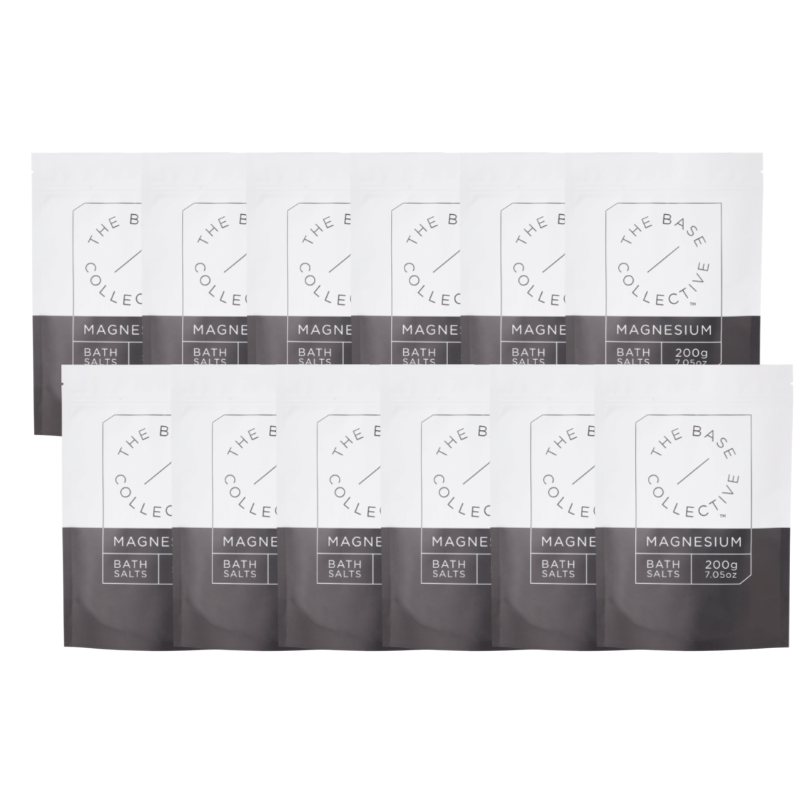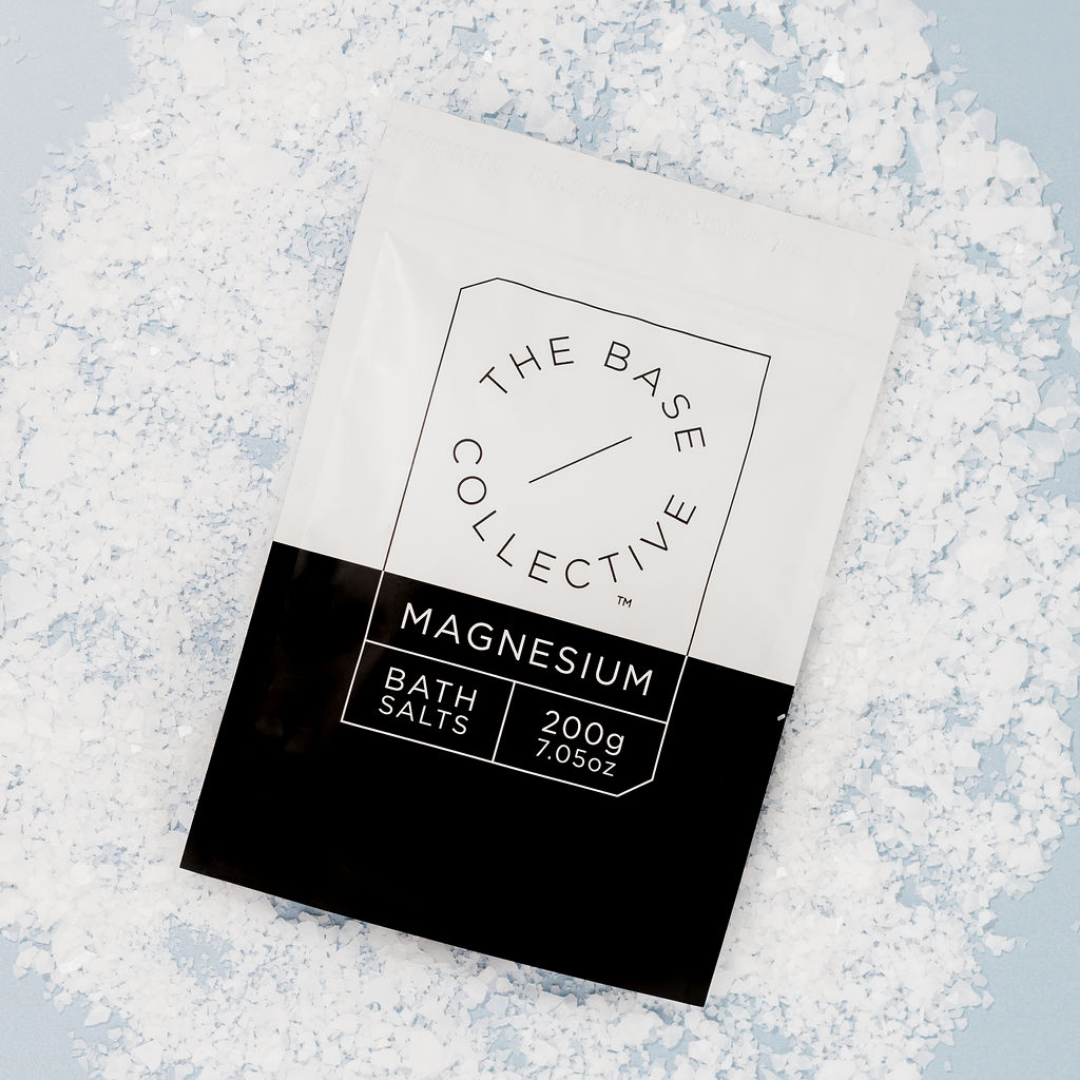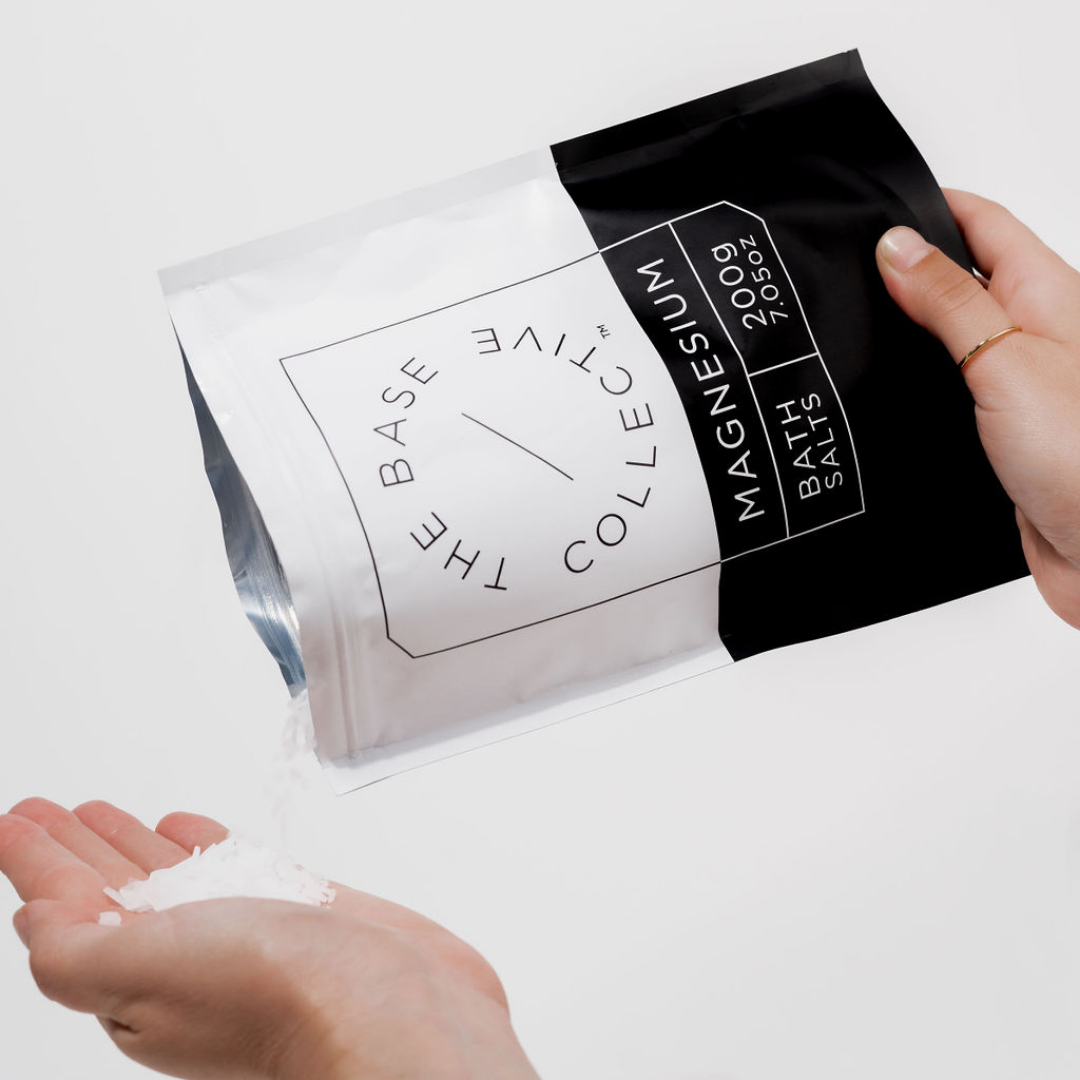 Save $43.00
Sale price

$128.00 USD
Regular price

$171.00 USD
(/)
---
BUY IN BULK AND SAVE 25%!
You deserve a break.
Magnesium is one of the most abundant minerals in your body and it's essential for more than 300 biochemical reactions that keep you alive. But as we age, our bodies produce less of this natural relaxant.
That's why we created our Magnesium Bath Salts to help you unwind and soak away the fatigue and stress of the day – it's been used for centuries to help relax tired muscles and enhance recovery while also working wonders for overall skin health.
With just one or two cups of the luxurious pure Magnesium Chloride flakes dissolved into your bath water, you can expect your mind, body and senses to be calmed and reinvigorated while soaking up all the goodness of the powerhouse mineral sourced from deep within the Dead Sea.
It doesn't matter if you're stressed out or feeling like life is getting on top of you – our Magnesium Bath Salts will leave your mind and body feeling calm and refreshed after just one soak.   
Suitable for all skin types, including sensitive and eczema-prone.
Proudly Australian made and owned | Vegan friendly and cruelty-free | Made from natural and organic ingredients excluding dairy and gluten
Please note: This product does NOT contain sulphates so are 100% safe for those with sulfur allergies.
Why are the Magnesium Bath Salts so special?
Soaks away the strains of the day
Creates a calming bedtime routine to help relax and unwind
Relieves muscle tension and overall discomfort
Contains numerous skin health properties to improve the overall appearance and health of the skin
Pickup available at Head Office
Usually ready in 24 hours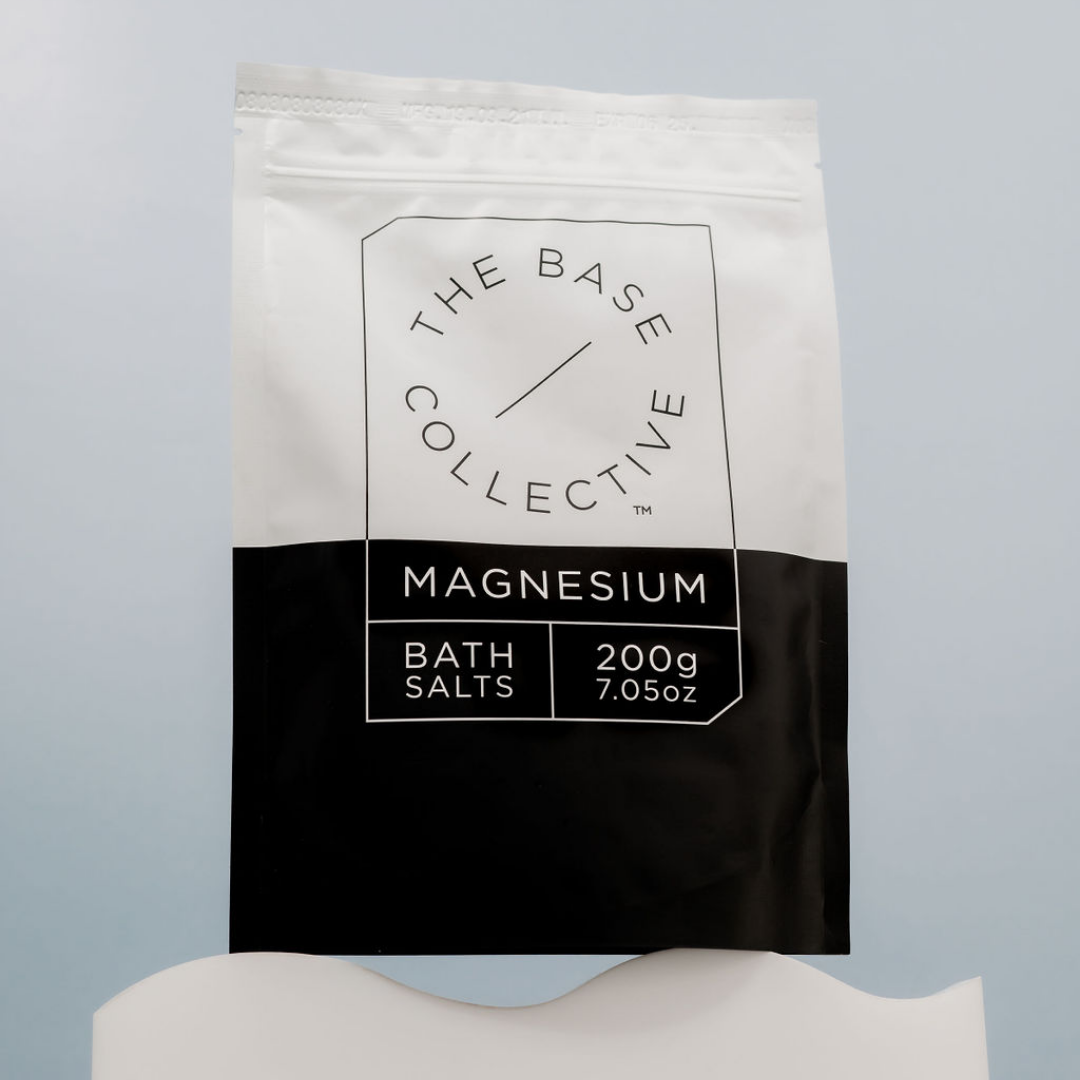 Bulk Magnesium Bath Salts (x 12)
Head Office
Pickup available, usually ready in 24 hours
15 Cochranes Road
Unit 123
Moorabbin VIC 3189
Australia
We're on a mission to weave
magnesium
Into every busy womans world! Why you ask? Because this little powerhouse mineral is involved in over 300 processes in our bodies and most of us are not getting enough, achy butt from Pilates, waking up overnight? We've developed multiple ways for you to weave this mineral into your world. If you do ONE thing for yourself Make It Magnesium.
WHAT DO YOU NEED RIGHT NOW?