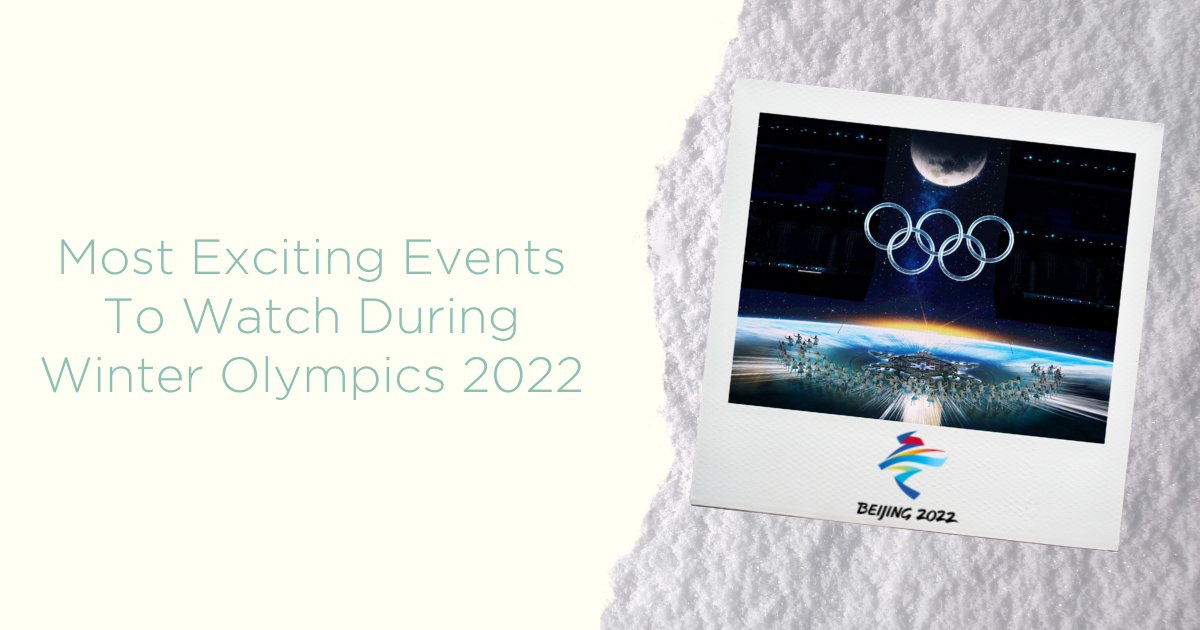 Most Exciting Events To Watch During Winter Olympics 2022
The Winter Olympics 2022 has finally begun, and athletes worldwide are gearing up to compete in a variety of events.


This year's games are being held in Beijing, China, and promise to be an exciting event.

As you probably know, the Winter Olympics officially kicked off last February 4 with a spectacular opening ceremony.

Indeed, this kind of event is a great time to get together with friends and family, have some laughs, watch some fantastic sport and enjoy the moment!

Whether you're a fan of winter sports or not, the Winter Olympics is something that almost everyone can enjoy.

You can witness a total of 109 events taking place this year over 15 disciplines in seven sports.

Best part? There are 44 Aussies to compete!

In this blog post, we'll look at the schedule of events and discuss some of the fascinating ones to watch.

Here's a rundown of some of the most exciting ones you can still watch where Aussies are in action:

February 15


Women's big air final - Snowboard



Tess Coady, 15, is the youngest Australian Winter Olympian ever to compete in this event.

This new event made its debut at the Winter Olympics in 2018 and consists of three jumps - two judged runs and one final run.

The athletes perform tricks on a huge jump before landing in an area designed to look like a snow-covered city street.

Time (AEDT): 12:30 pm

Women's downhill final - Alpine skiing
The Winter Olympics is not only about the snow and ice. It's also about the speed of skiing.

Twenty-six-year-old Greta Small made an epic comeback to international competition earlier this year, returning from her third ACL reconstruction.

And now, her eyes are fixed on competing in her third Olympic Games.
Time (AEDT): 2:00 pm

Men's big air final - Snowboard

Snowboarder Matty Cox, the big air competitor from Sydney, will compete in the Winter Olympics for the first time.

His statistics on this fantastic sport speaks highly of how talented and committed he is.

Indeed, it's going to be exciting to watch!

Time (AEDT): 4:00 pm

February 16


Women's team sprint final - Cross-country skiing
If you are an outdoor enthusiast, you probably know that cross-country skiing can keep you active and energized over the winter months. 

In fact, some consider this activity as one of the best cardiovascular exercises.

Now, there's no better way to enjoy watching this sport than supporting our very own athletes, Jessica Yeaton and Casey Wright, as part of the women's team sprint.

Time (AEDT): 10:00 pm

February 17

Women's ski cross final - Freestyle skiing
This event is not for the faint-hearted!

Freestyle skiing is an event that combines speed, agility and style on a course with jumps, rails and
bumps.

It's a thrilling event to watch, and this year, Sami Kennedy-Sim will be representing Australia.

Time (AEDT): 06:10 pm

Women's singles figure skating final - Figure skating
For this event, we are proud to have Kailani Crane, an exceptional athlete. 

The Winter Olympics is indeed one of the most significant events of her career, and she can't wait to show what she's got.

Time (AEDT): 9:00 pm

February 19

Men's 50km mass start freestyle - Freestyle skiing
Of course, let's not forget that The Winter Olympics is not only about women. 
Men like Phillip Bellingham and Seve de Campo are involved in exciting events like freestyle skiing, which you should watch with your family and friends.

Time (AEDT): 05:00 pm

Women's bobsleigh final - Bobsleigh
This year, Bree Walker and Kiara Reddingius compete in the women's bobsleigh final.

Bobsleigh is a sport that requires speed, power and teamwork - something these two extraordinary ladies definitely have!

Time (AEDT): 11:00 pm

February 20

Women's 30km mass start freestyle - Freestyle skiing
One of the most exciting sports to watch is the women's 30km freestyle cross-country skiing.

We have Aussies Jessica Yeaton and Casey Wright competing in this winter Olympics.

These two women are no strangers to success, so seeing how they go in this final race will be interesting.

Time (AEDT): 05:30 pm

There you have it! 

That's for some of the most exciting ones to watch as we witness Australian athletes compete worldwide!

You better make sure not to miss any of these exciting events.
With that, you can check the full schedule of the events on the main website of the
Olympics
.



Now, speaking of Olympics...

The more we talk about it, the more topics about sports and performance will be mentioned. 

And that's where Magnesium also comes into the picture. 

This mineral is so essential in the body, which helps increase activity. 

As a result, it boosts an individual's performance.

The best part is that it is not only for athletes. It is for everyone!

So if you are feeling inspired to start improving your activity because of the spirit of sports competition, you better make sure you have enough of this mineral to help improve your energy.

It is perfect for pre and post-workout muscle relaxation. 

In fact, scientists have linked high magnesium levels to improved muscle performance.

PLUS, it is perfect if you occasionally have tight leg cramping calves and helps with fatigue.

This is why if you want to enhance your own performance just like the athletes you support, then Magnesium is a great place to start.

You can learn more about magnesium and its benefits at our main website or home page. 
Be sure also to check out our recommendations right
here
. 

You won't be disappointed…just like a ton of people who love these products.

Now, as always, if you have any questions, please do not hesitate to contact us.
If you have enjoyed our post, please feel free to like, comment and even share this.
We're on a mission to weave
magnesium
Into every busy womans world! Why you ask? Because this little powerhouse mineral is involved in over 300 processes in our bodies and most of us are not getting enough, achy butt from Pilates, waking up overnight? We've developed multiple ways for you to weave this mineral into your world. If you do ONE thing for yourself Make It Magnesium.
WHAT DO YOU NEED RIGHT NOW?