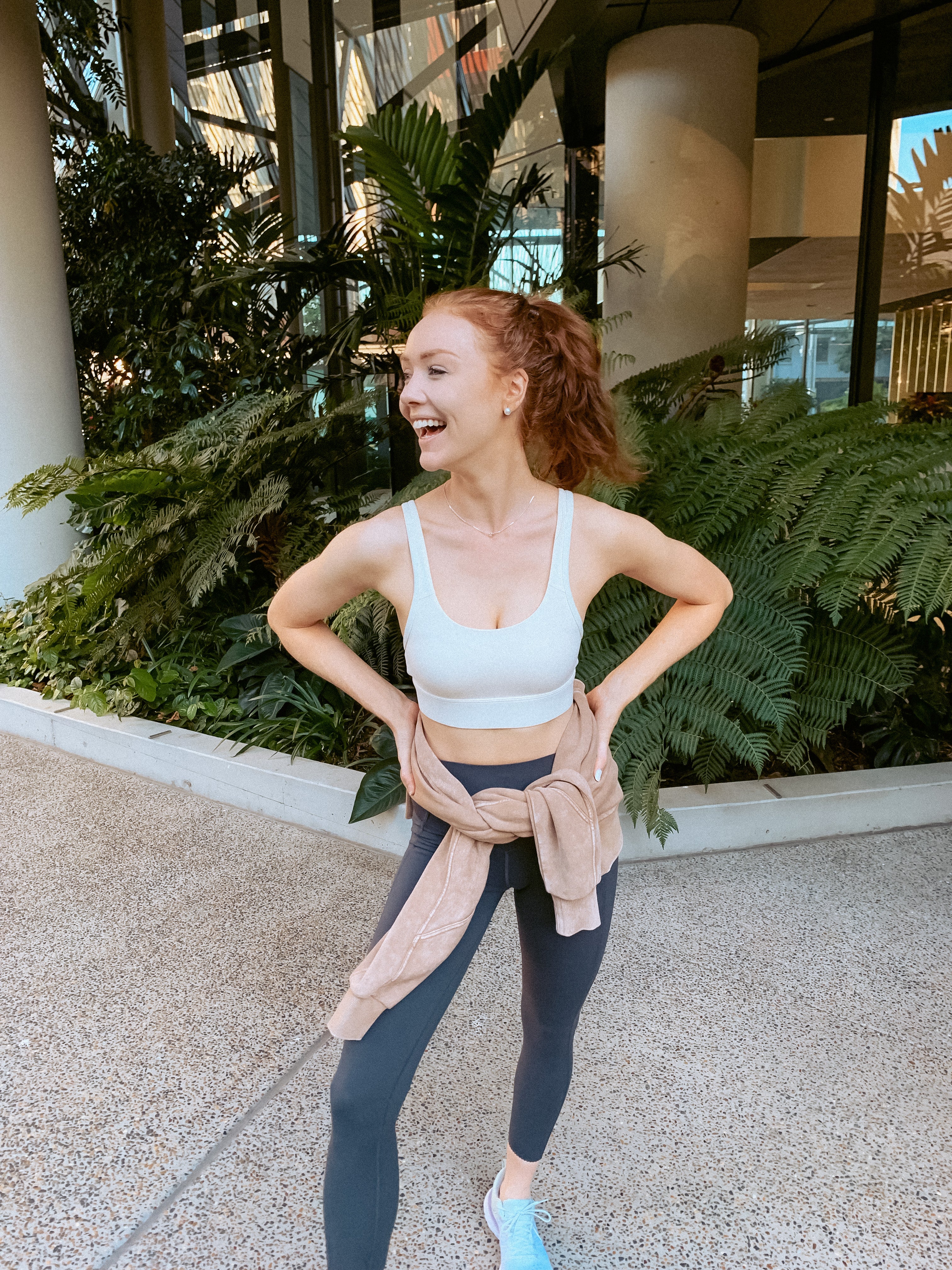 Q & A with Tess Alexander
We sat down with the amazing Tess Alexander to chat about all things health and wellness. 
Tess Alexander is an Australian Presenter, former Miss World Australia, Allied health professional and is on a mission to redefine beauty standards.
Landing her first international modelling contract at the age of 17, Tess has worked in every corner of the globe, modelling for brands such as Vogue, Valentino and Fendi. In 2015 Tess won the coveted title of Miss World Australia, going on to place in the top 10 at the international Miss World competition held in Sanya, China. Throw our everything you know about the term "Beauty Queen", because Tess Alexander's brand is far more than an image.
Tess is a fierce advocate for redefining beauty industry standards, using her platform to unpack the link between appearance and self worth, while breaking down the perception that "beauty" is only skin deep. 
1. You won Miss World Australia in 2015 and carved out a successful career modelling internationally for brands like Fendi, Valentino and Vogue Italia. What led you to study and work in the health and wellness industry? 
When I finished school, I moved overseas as an international model. It sounds super glamorous when I write it like that, and many parts definitely were! But, being deeply immersed in the fashion industry during my formative years, took its toll! 
I didn't know it at the time, but my entire perspective on myself was scrambled! I had severe Body Dysmorphia, my self worth was out the window and more than anything, I was unhappy! I came home to Australia and knew I had to do anything and everything to connect with, and help others who felt like this too. I had to be a part of the change. 
The best way I knew how to do that was via the empowerment of health and wellness. I turned my mess into my message and during this process, I was lucky enough to be named Miss World Australia.
2. What do you love the most about what you do?
Connecting with people! If I can make even one person feel seen or less alone?! Jeez, what's more special than inclusivity?!  
Even in my role as a presenter, my favourite aspect is unifying the audience. I love uncovering a way for everyone to feel connected to, and a part of the client's message! For those 2 hours - we're a community! I just love how that feeling of togetherness really does bring out the best in people. 
 3. What do you find most challenging?
I run two businesses and I love so many aspects about being my own boss. But I do find it challenging knowing when the 'day of work' is done. Workday parameters are important - they give you a goal post, a book end…but they also give you permission to relax. 
The internet is a fantastically terrible enabler and somewhere along the line, we've mixed up 'stressed and busy' with success...and that ain't it. 
I find it helpful to write a task list at the start of each day and when I've ticked them all off, I'm good! Just because you can do more, doesn't mean you should! 
4. Tell us about your health and wellness routine
You know the saying "Health is not just what you're doing, but what you're thinking and saying"? 
This. This is my health and wellness routine. 
I try and make sure all aspects of my health and wellness come together in a nice Venn diagram. Exercise, nutrition, mental & physical health, self care - and I aim to live somewhere in the middle. 
I remind my clients (& myself) this all the time: You spend all of this time and effort trying to achieve the best quality of life, MAKE SURE YOU LIVE IT! Have the glass of wine with your friends, exercise because YOU want to, eat well because it makes you feel better, water your plants and do some craft! 
To me, this is wellness. 
5. You're an advocate for redefining beauty industry standards, what does beauty mean to you?
For a long time 'beauty' looked one way: one shape, one colour, one ability, one orientation, one aesthetic. And if you didn't fit into this box - then what? 
We have come a very long way in celebrating and showcasing the wonderful beauty that is diversity! 
But, we still live in a society that moulds us to be perfect. Almost as if "perfection" and "beauty" go hand in hand; like you can't have one without the other. 
Every facet of our lives has the ability the be improved, enhanced, changed and altered. Nothing is even wrong, but we're fed marketing constantly that has taught us to believe we could be better! 
And this idea that we need to be perfect all the time is problematic! Talk about and endless pursuit of something so subjective!! Who decides what 'perfect' is?! No thanks!  It's unfair and unkind to the wonderful person you already are, to live in search of a made up construct!
We have to remember "perfection" and "beauty" are not mutually exclusive! Be bold, bright, messy, colour outside the lines, show your passion - do you, be you. And that's bloody beautiful! 
6. Talk us through your beauty routine
I'd love to tell you I have a regular step-by-step protocol that I follow religiously, but I don't. Truthfully, I've found it hard to follow a regime, when nothing about my life or frankly, skin is…set! I have PCOS, a few auto-immune disorders and my skin sometimes (always!) feels like it's running its own race! 
So verbatim, here's what I do. I wake up and have a look at my skin in the morning. It's never perfect; it's never clear or glowey. The most important part of my beauty routine consists of reminding & reiterating to myself that I'm ok with it!
I say 'reiterating' because when you wake up with Mt Vesuvius on your forehead, it's NORMAL to get in your own head! But instead of getting out the paper bag, I try my best to come out the other side.
No one is perfect! Beauty doesn't just lie in your appearance. What's on the outside doesn't define your worth; your ability to be love or be loved; your ability to make an impact. 
…and then I'll put on some sunscreen. 
7. What do you do to wind down before bed of an evening?
Honestly, I find it hard to relax! (see above: What is a work day). 
So I'm a big fan of watching a good 'wind-down' TV show, while drinking some peppermint tea! 
Having a shower with TBC's Beauty Sleep Wash with Magnesium with Lavender is also a fave self-care moment of mine! The Magnesium combined with Lavender is like having a spa experience at home! 
8.What's your go-to self care practice and why?
Craft, cooking, candles and Lizzo. 
I love a crafternoon. Is it ever good? Absolutely not! But it doesn't have to be! There's something unique about craft (and cooking TBH) that keeps you in the moment. It occupies enough of your brain to keep you busy, while creating enough free space to think. I feel very… connected(?) to myself in this space. Painting, knitting, jeez even folding origami -  I'm in. 
Scent has the ability to transport you anywhere! It evokes such strong memories, and I find that really comforting! I have a tonne of different candles that remind me of different times in my life, people and experiences. Especially during lockdown and being separated from many people I love, lighting their candle has been a simple yet beautiful self care practice. The Base Collective's Champagne & Strawberry candle with the Holiday Sleeping Beauty Pack is like a holiday in a jar!!
Lizzo is THERAPY and that is that. 
9. Do you have any special projects coming up you want to share?
YES BUT IT'S ONE OF THOSE REALLY ANNOYING THINGS WHERE YOU CAN'T SAY IT OUT LOUD BUT I'M VERY EXCITED ABOUT IT! It will be coming to wherever you listen to your podcasts  very soon!! 
We're on a mission to weave
magnesium
Into every busy womans world! Why you ask? Because this little powerhouse mineral is involved in over 300 processes in our bodies and most of us are not getting enough, achy butt from Pilates, waking up overnight? We've developed multiple ways for you to weave this mineral into your world. If you do ONE thing for yourself Make It Magnesium.
WHAT DO YOU NEED RIGHT NOW?