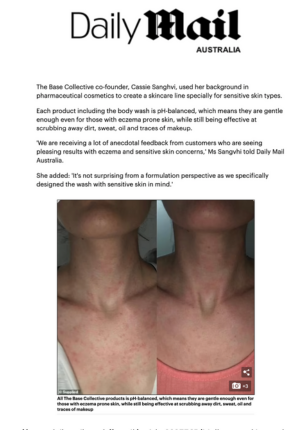 Unlocking the Healing Power of Topical Magnesium: The Base Collective Magnesium and White Tea Wash for Eczema Relief
Eczema—a familiar word to many of us, but its impact on those who suffer from it goes far beyond the name. The itching, the redness, the discomfort—it's a daily battle. But what if there was a natural remedy that could ease this struggle? Enter topical magnesium, a hidden gem in the world of skincare, and The Base Collective Magnesium and White Tea Wash, your potential saivour in the fight against eczema.

What is Eczema?

Before we dive into the wonders of magnesium, let's get to know our opponent. Eczema is a common skin condition affecting millions worldwide. Its symptoms range from dryness and itching to painful inflammation. Knowing the triggers and how to manage eczema is vital, but sometimes, even with a well-thought-out routine, relief remains elusive.
How Can Magnesium Help Skin Health?

Now, let's talk magnesium. This essential mineral isn't just for muscle health; it's a skin superhero too. Magnesium plays a vital role in maintaining the health and balance of your skin. But how does it work its magic, especially when eczema wreaks havoc?

Why Topical Magnesium For Eczema Relief?

Topical magnesium is where the real magic happens. Applying magnesium directly to your skin can be a game-changer for eczema-prone individuals. It soothes irritation, reduces inflammation, and supports your skin's natural healing processes. There's science to back this up, making it a promising option for those seeking relief. We based out Magnesium Skincare lines off this study  which showed that participants who bathed in Magnesium Chloride from the Dead Sea showed an improvement in skin barrier and their eczema - impressive we know!

Introducing The Base Collective Magnesium and White Tea Wash

Now, let's meet our star player—the Base Collective Magnesium and White Tea Wash. This product is not your average skincare find. It's a meticulously formulated wash designed to target eczema-prone skin's unique needs. Here's why it stands out:

- **pH Balanced:** The formula is pH balanced to restore your skin's natural equilibrium. Say goodbye to excessive dryness or oiliness.

- **Organic Aloe Vera Juice:** With over 40% organic aloe vera juice, it's a hydration boost your skin will love. Aloe vera is renowned for its soothing and healing properties. 

- **Skin Barrier Repair:** The formulation is specifically tailored to nourish and repair your skin's barrier, which is crucial for eczema management.

What are the benefits of The Base Collective Magnesium and White Tea Wash

So, what can you expect when you make The Base Collective Magnesium and White Tea Wash part of your skincare routine?

- **Soothing Magnesium:** Magnesium's calming effect can help ease the itchiness and discomfort associated with eczema. Remember the study above 👆🏼

- **Aloe Vera Healing:** Organic aloe vera juice provides intense hydration and promotes healing, reducing redness and inflammation.

- **pH Harmony:** The pH-balanced formula means your skin will feel balanced, not too dry or too oily.

We like our customers to do the talking:
Don't just take our word for it. Real-life stories speak volumes. Here are some experiences shared by individuals who found relief with The Base Collective Magnesium and White Tea Wash:


How to Use The Base Collective Magnesium and White Tea Wash

Incorporating this miracle product into your routine is easy:

1. Wet your skin.
2. Apply the wash, massaging gently
3. Rinse thoroughly.
4. Pat dry and follow with your usual moisturizer, we love our Magnesium Balm with White Tea for a real hydration boost

For optimal results, use it every day!

Eczema can be a daily struggle, but you don't have to face it alone. Topical magnesium, especially in the form of The Base Collective Magnesium White Tea Wash, could be your secret weapon. It's time to reclaim your skin's health and say goodbye to eczema's relentless grip. Give it a try and experience the healing power of magnesium for yourself.

Additional Resources

https://www.rch.org.au/kidsinfo/fact_sheets/eczema/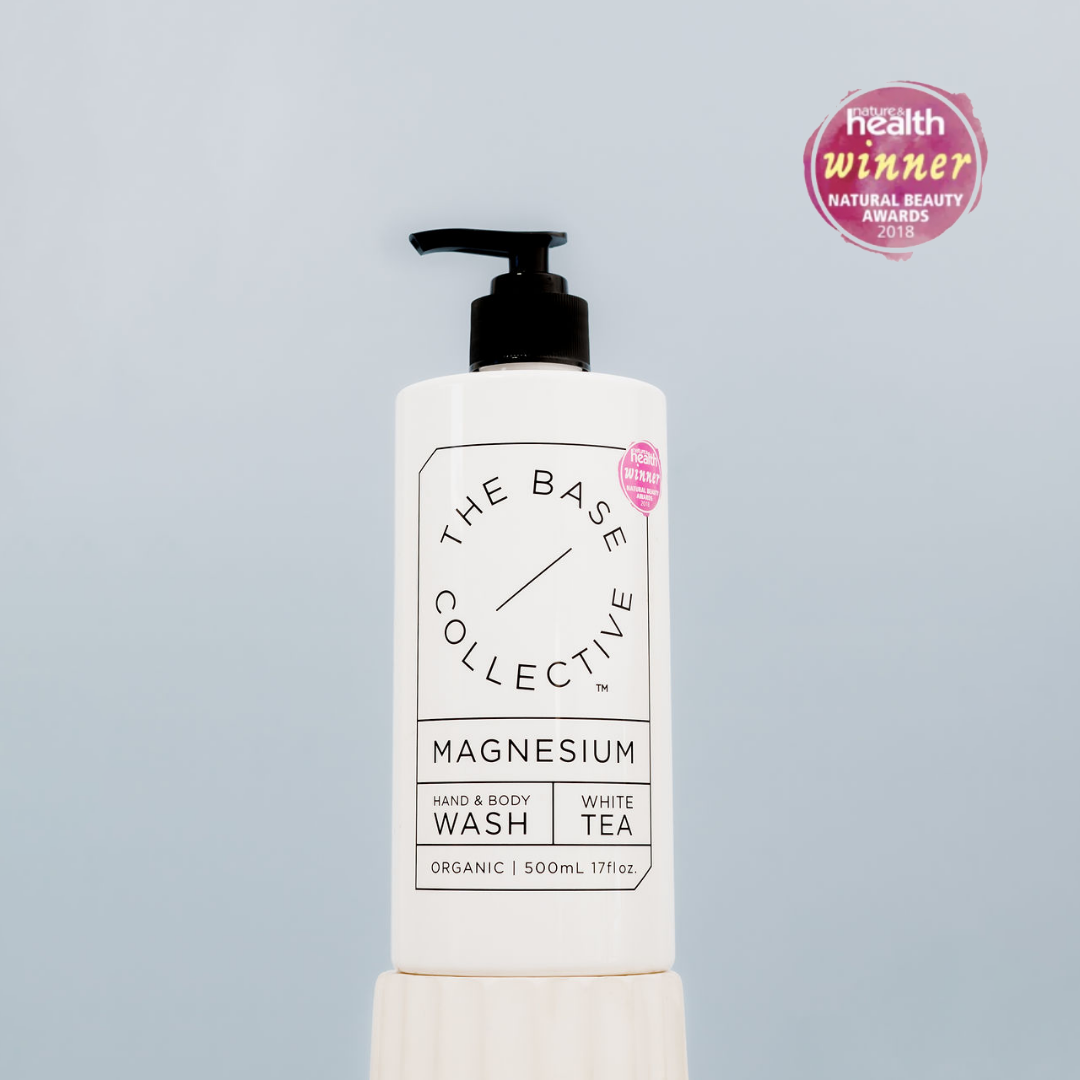 Sale price

$33.00 USD
Regular price
(/)
---
Have you ever felt like your skin is tight and itchy after washing it with other body washes?
That's because most body washes are too harsh and strip the natural oils from your skin. But not ours! Gentle on the most sensitive skin but also tough on the dirtiest, our Magnesium Wash with White Tea 500ml is award-winning for a reason.
With Magnesium for healthy skin and Organic White Tea Extract for a complexion boost, this pH balanced wash will leave your skin feeling refreshed and hydrated all day long. It's gentle enough for even those with sensitive or eczema prone skin but tough on dirt, sweat, oil & makeup residue while still being kind to your pores.  Say goodbye to dry patches and hello to smoothness.
Along with Magnesium, we've included naturally skin-enhancing ingredients such as Aloe Vera Juice, Organic Avocado Oil and Sweet Almond Oil which will leave you feeling great and looking great too.
The delicately clear and low foaming gel will leave your skin soft, smooth, nourished and - most importantly - thoroughly cleansed.
Suitable for all skin types, including sensitive and eczema-prone.
Proudly Australian made and owned | Vegan friendly and cruelty-free | Made from natural and organic ingredients excluding dairy and gluten
Why is the Magnesium & White Tea Wash 500ml so special?
Gently exfoliates the skin, magnesium naturally removes dead skin cells. 
Balancing your skin's pH without stripping of natural oils
Deeply hydrates to eliminate dry, patchy skin
Leaves your skin refreshed, smooth and soft
Neutral scent
The information provided by The Base Collective is not intended to be used as medical advice and should not take the place of professional or medical advice. Always seek the guidance of your doctor or other qualified health professionals with any questions you may have regarding your health or medical condition.
---
Pickup available at Head Office
Usually ready in 24 hours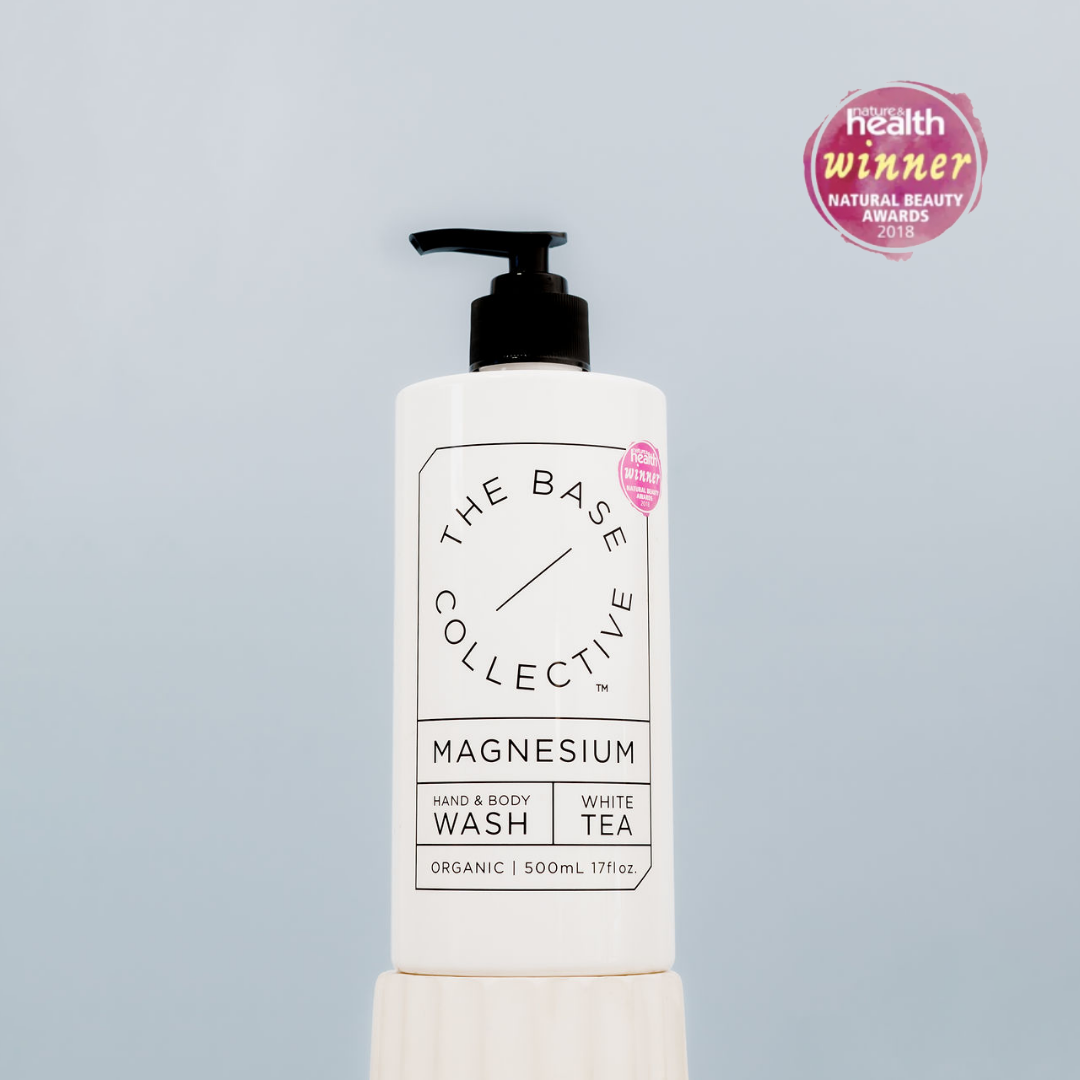 Magnesium & White Tea Hand & Body Wash 500ml
1 x 500mL
Head Office
Pickup available, usually ready in 24 hours
15 Cochranes Road
Unit 123
Moorabbin VIC 3189
Australia
We're on a mission to weave
magnesium
Into every busy womans world! Why you ask? Because this little powerhouse mineral is involved in over 300 processes in our bodies and most of us are not getting enough, achy butt from Pilates, waking up overnight? We've developed multiple ways for you to weave this mineral into your world. If you do ONE thing for yourself Make It Magnesium.
WHAT DO YOU NEED RIGHT NOW?