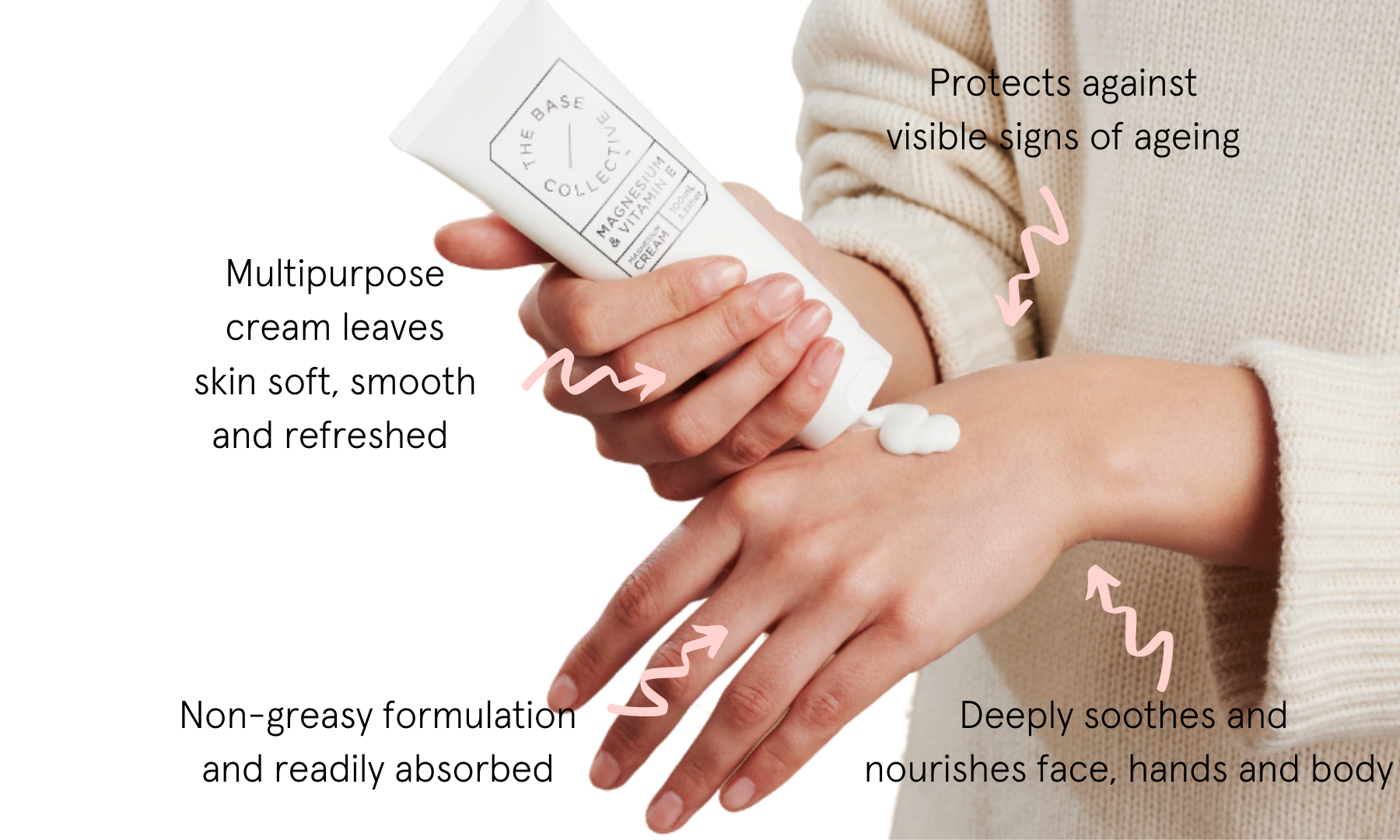 Magnesium benefits: why is Magnesium good for skin health?
We all know the Magnesium benefits for amazing skin health.
Duh! It's a multi-purpose mineral with natural calming and hydrating properties that have the capability to improve the overall condition and appearance of your skin.
So if you're experiencing dry skin, a dull appearance or uneven skin tone, our Magnesium & Vitamin E Cream is designed to fight against premature ageing to ensure your skin remains soft, smooth and nourished.
Here are some of the amazing ingredients we've combined to make it the ultimate moisturiser:
1. Vitamin E
Antioxidant that protects skin from pigmentation, fine lines and wrinkles

Natural moisturiser to nourish dry, tired skin

Boosts dull skin for overall glow
2. Shea Butter
High concentrations of fatty acids and vitamins soften and smooth dry skin  

Anti-inflammatory properties that reduce redness and inflammation   

Soaks into skin to create a smooth barrier to seal in moisture
3. 

Organic Olive Leaf Extract
Reduces redness and calms irritation 

Hydrates and nourishes for healthy and rejuvenated skin

Reduces signs of premature ageing
We're on a mission to weave
magnesium
Into every busy womans world! Why you ask? Because this little powerhouse mineral is involved in over 300 processes in our bodies and most of us are not getting enough, achy butt from Pilates, waking up overnight? We've developed multiple ways for you to weave this mineral into your world. If you do ONE thing for yourself Make It Magnesium.
WHAT DO YOU NEED RIGHT NOW?