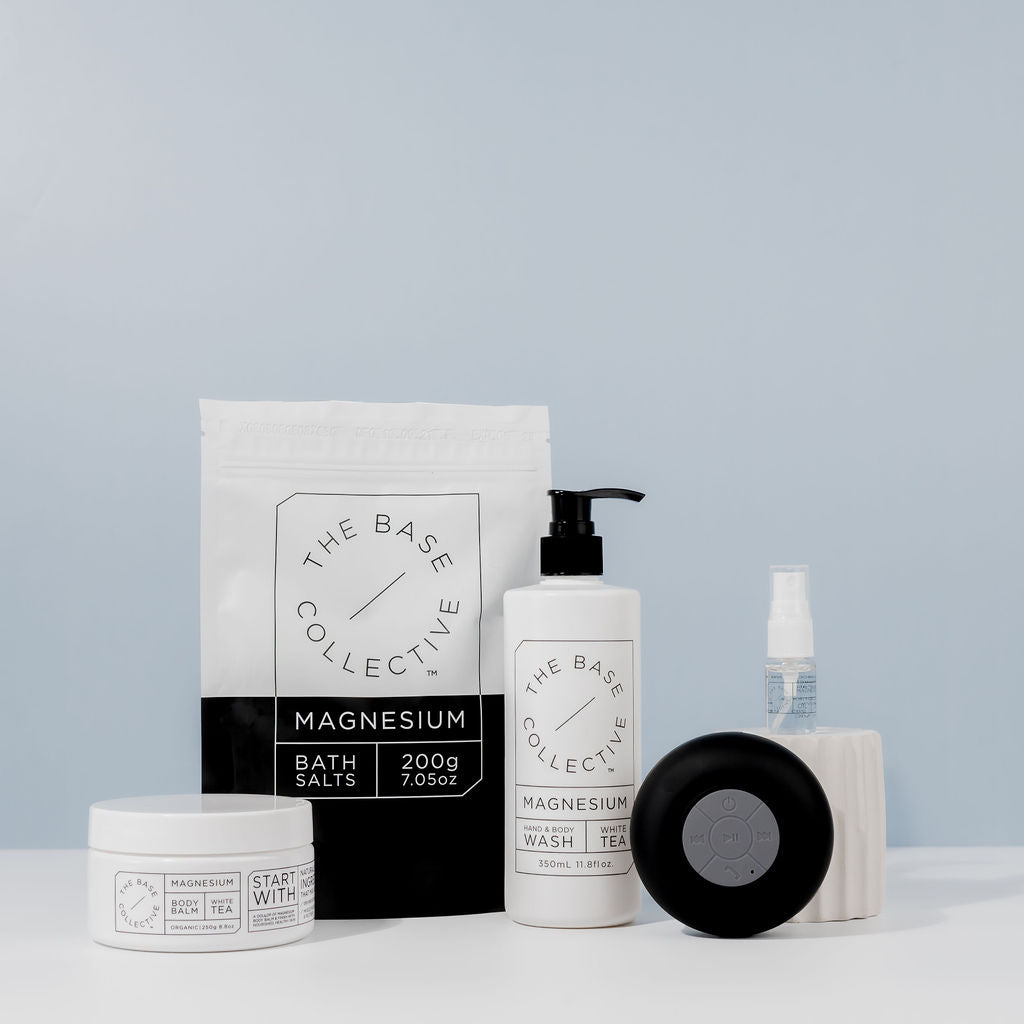 Ultimate Magnesium Relax Shower Bundle
'I look forward to my unwind shower at the end of a busy day'
Sale price

$152.00 USD
Regular price

$112.00 USD
(/)
---
Pickup available at Head Office
Usually ready in 24 hours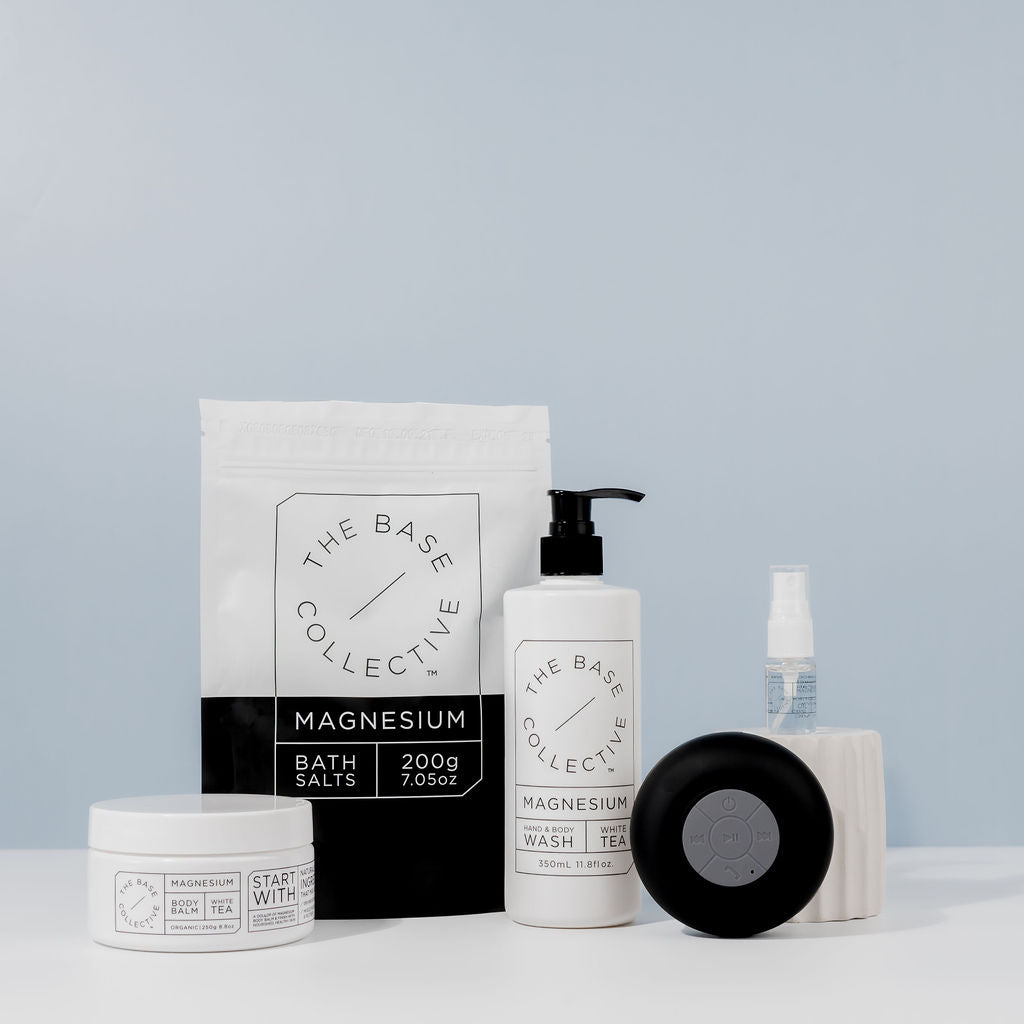 Ultimate Magnesium Relax Shower Bundle
Head Office
Pickup available, usually ready in 24 hours
15 Cochranes Road
Unit 123
Moorabbin VIC 3189
Australia
The Ultimate Magnesium Shower Bundle - The Gift of Relaxation and Rejuvenation!
Our carefully curated Magnesium Shower Bundle is crafted to provide an unparalleled shower experience, this bundle is designed to invigorate the senses, soothe tired muscles, and promote a deep sense of calm. 
Magnesium & White Tea Body Wash 350mL
✔️ Soothe tired achy muscles
✔️ Nourish Skin 
✔️ Sensitive skin - pH Balanced
✔️ 100% Natural and Organic Ingredients 
Magnesium & White Tea Body Balm 250g
✔️ Sooth tired achy muscles 
✔️ Dry Skin
✔️ Doesn't tingle like Magnesium Oil can
✔️ Sleep 
✔️ 100% Natural and Organic Ingredients 
Magnesium Bath Salts 200g
✔️ 100% Pure Magnesium Chloride sourced from the Dead Sea
✔️ Foot Bath or Full Soak 
✔️ Ice Bath compatible 
Mini Magnesium Oil 7mL
✔️ Perfect for the Gym, Golf or Tennis bag
✔️ Instant relief of sore muscles
✔️ Highly concentrated
✔️ 100% Natural and Organic Ingredients 
Bluetooth Shower Speaker 
✔️ Waterproof
✔️ Bluetooth enabled 
✔️ Stylish minimalistic design
This bundle is the perfect as a gift or for your self. Whether Pilates has your butt achy or the constant juggle struggle of the modern world, you deserve a shower routine that will leave you relaxed and ready for the day ahead.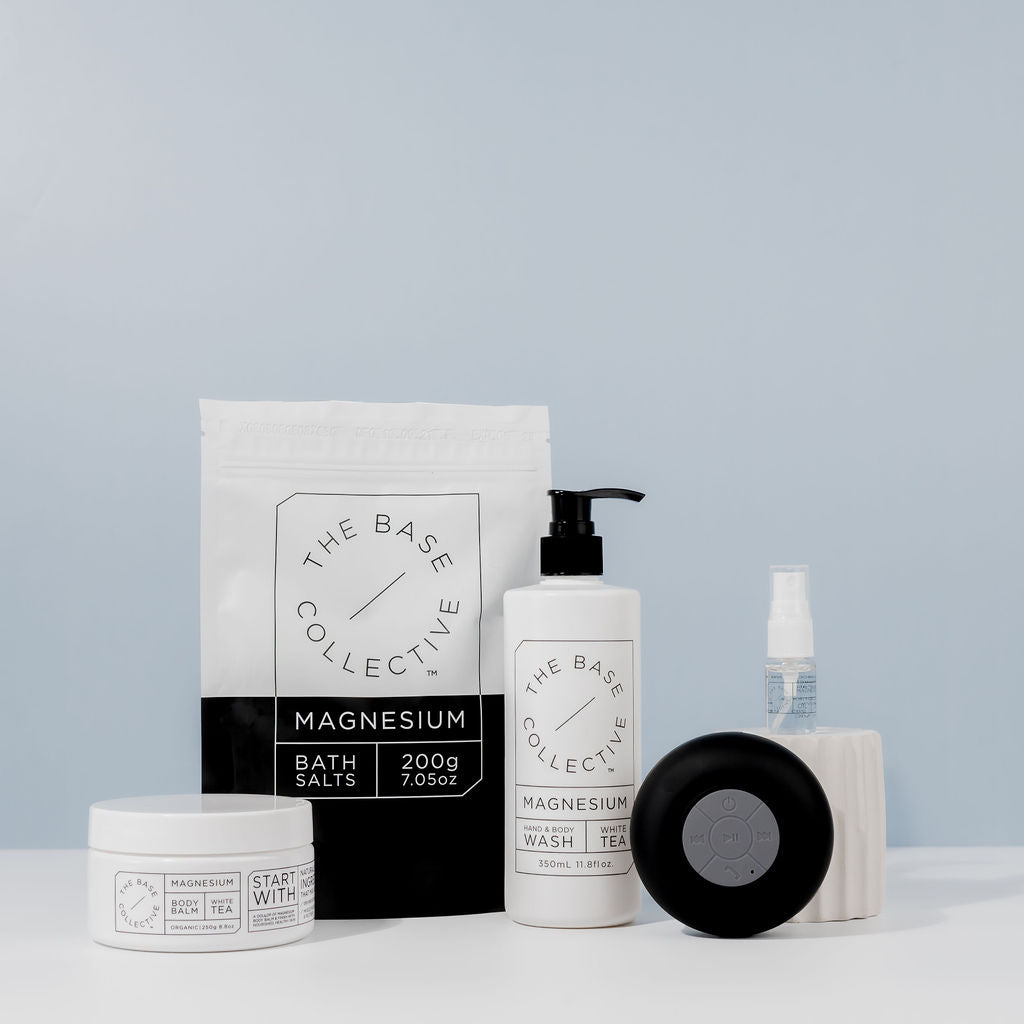 Ultimate Magnesium Relax Shower Bundle
Sale price

$152.00 USD
Regular price

$112.00 USD
Choose options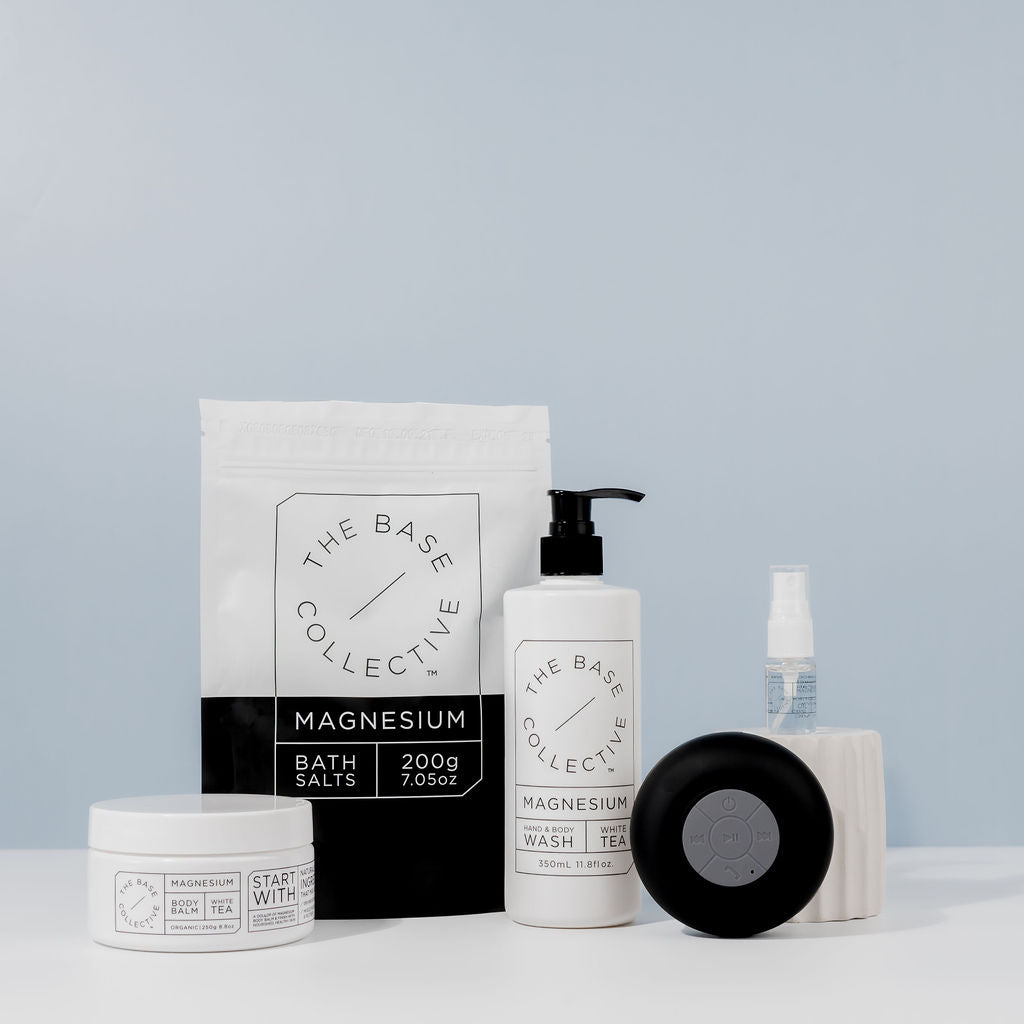 Sale price

$152.00 USD
Regular price

$112.00 USD
(/)
---
View details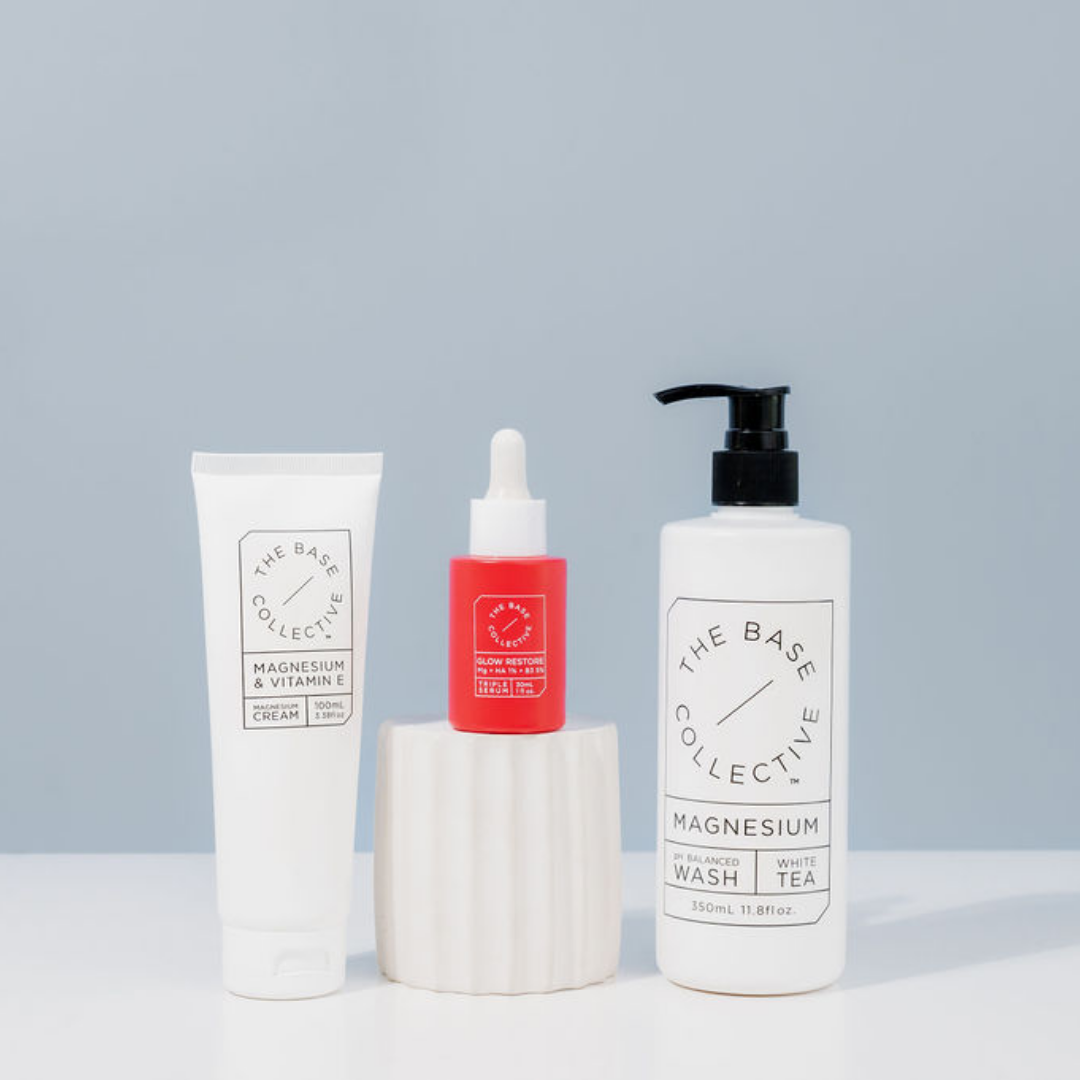 Save $7.00
---
Tried everything on your skin and not getting results? Welcome to the world of Magnesium Skincare.
The Magnesium Face Glow Bundle is designed for those who want a natural but effective skincare routine designed to encourage healthy skin activity and give you a natural glow.
This clever pack contains 3 products for a simple 3 step routine:
Magnesium pH Balanced Wash 350mL:
This wash combines aloe vera juice, olive leaf extract, macadamia oil and safflower oil with the power of Magnesium to cleanse the skin whilst maintaining an optimal pH of 4.5-5.5 leaving the all important lipid barrier in tact. Will remove makeup and suitable for eczema and blemish prone skin.
Magnesium & Vitamin E Cream 100mL:
This light formula contains a high percentage of Magnesium along with nourishing ingredients such as organic shea butter, sunflower oil, organic cocoa butter to help the Magnesium penetrate the skin to the deep layers and encourage remineralisation and healthy skin performance. This formula helps to decrease redness and maintain hydration. Suitable for blemishes, eczema prone and sensitive skin. 
Glow Restore Triple Serum 30mL
Our clever combination of Magnesium Chloride and Hyaluronic Acid 1% works to relieve dry and dull skin by intensively nourishing for long-term hydration, locking moisture within the skin's barrier for a gorgeous glowing complexion. Infused with Niacinamide 5% to control sebum production, reduce redness and inflammation and encourage skin cell generation that minimises signs of premature ageing to achieve an even skin tone, these ingredients also boost our body's natural collagen production resulting in smoother, firmer skin. It really is a true multipurpose serum and perfect for multiple skin types including blemishes, eczema and sensitive skin. 
How to use:
1. Cleanse morning and night with the Magnesium pH balanced cleanser.
2. Apply a thin layer of the Glow Restore Triple Serum to your face.
3. Apply a thin layer of the Magnesium & Vitamin E Cream.
4. During the day follow with your favourite sunscreen, we recommend a physical sunscreen. 
The information provided by The Base Collective is not intended to be used as medical advice and should not take the place of professional or medical advice. Always seek the guidance of your doctor or other qualified health professionals with any questions you may have regarding your health or medical condition.
Pickup available at Head Office
Usually ready in 24 hours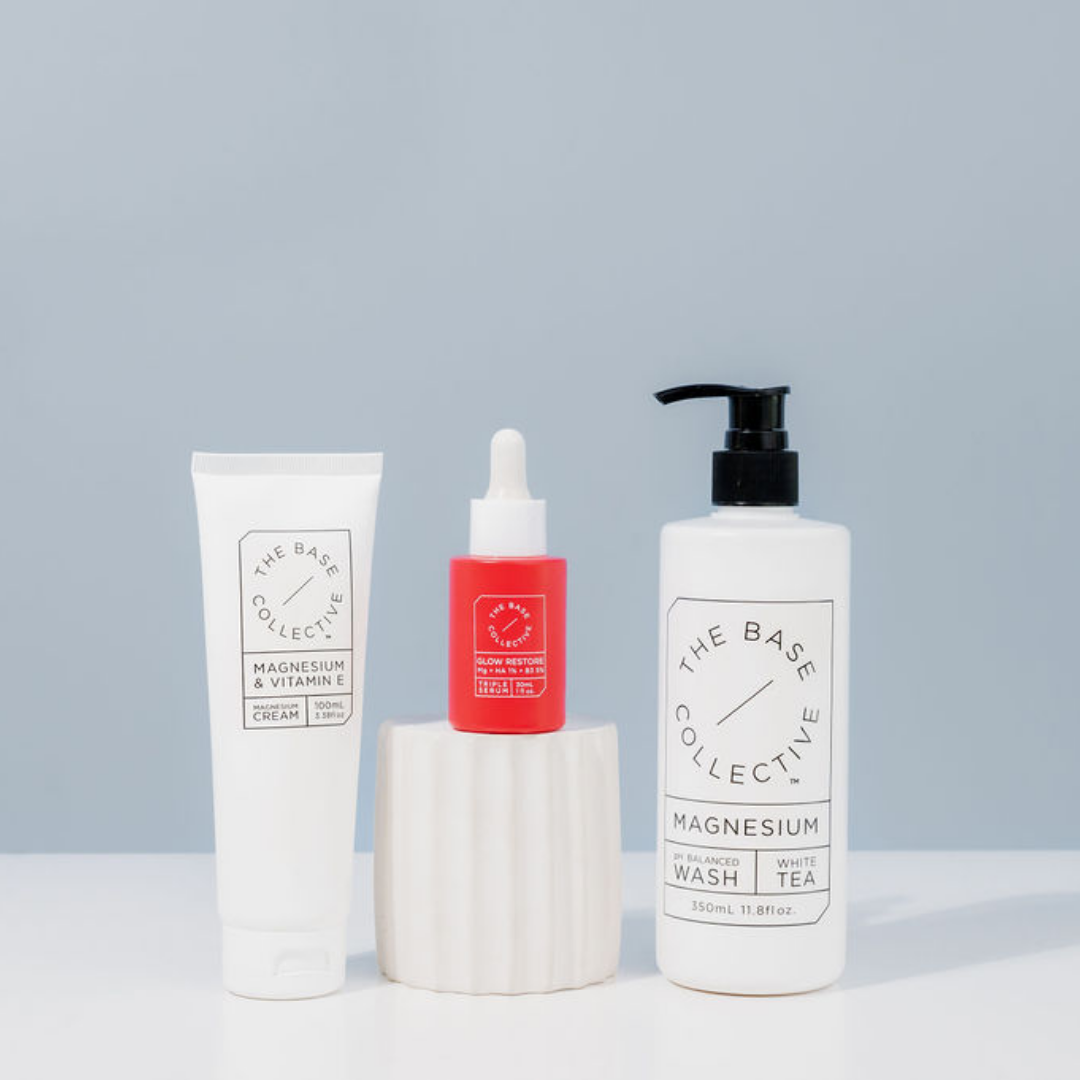 Magnesium Face Glow Bundle
Head Office
Pickup available, usually ready in 24 hours
15 Cochranes Road
Unit 123
Moorabbin VIC 3189
Australia