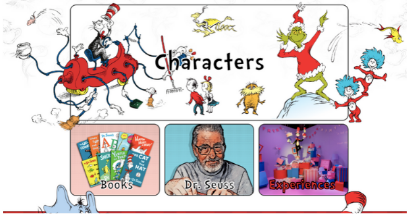 7/4
To all of you with children at home right now - we feel you!
This sudden change is certainly challenging, but also a wonderful time to make memories with your children and learn things beyond 'normal' educational activities.
Take the chance to help your child dig in and spend hours doing or learning something that they love or are passionate about.
Here are a few of our favourite links to keep the kids entertained!
Read, play games, and hang out with Dr. Seuss. Parents can also have access to activities, crafts, and printables which provide hours of 'Seussian' ideas to engage your child in playful learning.
Storyline Online streams videos featuring celebrated actors reading children's books alongside creatively produced illustrations. Each book provides activities developed by professional educators to strengthen comprehension and verbal and written skills for English-language learners.
Club SciKidzDaily intersects science and technology, and you can access many free science or cooking experiments to do at home!
Their blog includes STEM challenges, growing crystals, pudding slime and much more, and provides learning activities based on their age.
Innerbody explores the 11 bodily systems in depth. With interactive models and detailed explanations, this website will help teach about the internal mechanics of the human body.
ClimateKids is a NASA initiative that covers a wide range of topics including weather, climate, atmosphere, water, energy, plants, and animals - designed just for kids.

We're on a mission to weave
magnesium
Into every busy womans world! Why you ask? Because this little powerhouse mineral is involved in over 300 processes in our bodies and most of us are not getting enough, achy butt from Pilates, waking up overnight? We've developed multiple ways for you to weave this mineral into your world. If you do ONE thing for yourself Make It Magnesium.